September 30, 2016 - 12:10pm
Kenneth R. MacGregor
posted by
LaVern Falcone
.
LeRoy ~ Kenneth R. MacGregor, age 79, of Warsaw Road, passed away Wednesday afternoon (Sept. 28, 2016) at Strong Memorial Hospital in the loving presence of his family.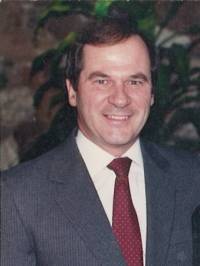 He was born December 17, 1936 in St. Catherines, Ontario, Canada, a son of the late Alex and Margurite Plante MacGregor.
     Ken was a very loving husband, father and grandfather, who was devoted to his faith and his community.  He was a 4th degree member of the Fr Vincent Capodanno Assembly 0755 where he served as past Faithful Navigator, and a 3rd degree member of the Edward Powers Council 2936 of LeRoy, where he served as a past Grand Knight.  He oversaw the K of C golf tournament for 14 years and also ran bingo for 13 years.  He was an extraordinary minister and longtime member of Our Lady of Mercy Parish.  He was past president of the Home School Association, an instructor for the AARP defensive driving course and was instrumental in initiating a kindergarten program at Holy Family School. Ken also developed many friends and relationships during a 33 year career with Allstate Insurance.
     He is survived by his loving wife of 59 years, Barbara Regone MacGregor; his children, Lori MacGregor, K. Mark (Shari) MacGregor, Lisa (Daniel) Mills and Lynn (Robert) Cesare; 10 grandchildren; 10 great-grandchildren; his brother, Ronald (Edith) MacGregor of LeRoy; his sister, Dorothy Howarth of St. Catherines, ON, Karen (Gerard) Sciera, RoseMarie (Thomas) O'Grady, along with many nieces, nephews and dear friends.  He was also predeceased by his brother-in-law, Dan Howarth.
     Family and friends may call on Saturday from 2 ~ 4 and Sunday from 1 ~ 3 and 6 ~ 8 at the Falcone Family Funeral & Cremation Service Inc., 8700 Lake Road (Rt. 19), LeRoy.  The Knights of Columbus will have a prayer service on Sunday at 6:00 PM.  Ken's Rite of Christian Burial will be held on Monday at 11:00 A.M. at Our Lady of Mercy Parish, St. Peter's Church, 44 Lake Street, LeRoy. 
     Memorials are suggested to either Our Lady of Mercy Parish or the American Cancer Society.
     Your memories and condolences may be shared with Mr. MacGregor's family at www.falconefuneralhome.com.
     Mr. MacGregor and his family are being cared for by the Falcone Family Funeral & Cremation Service Inc. in LeRoy.  585-768-2400