December 17, 2016 - 9:44pm
Frank J. Wandryk
posted by
Ronald Konieczny
.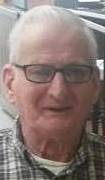 Frank J. Wandryk, 82 of Batavia, passed away peacefully on Friday (December 16, 2016) at United Memorial Medical Center.
He was born January 30, 1934 in Batavia, NY, a son of the late John and Sophia Zimnal Wandryk.
Frank served our country with the U.S. Army during the Korean War. He was employed with the City of Batavia Dept. of Public Works prior to his retirement. Frank was a member of Ascension Parish in Batavia. Frank was a gentle and humble man who enjoyed simple pleasures. He enjoyed baseball, television sports, bingo and music. Most of all he was proud of his family and will be deeply missed. 
He spent his final years at the NYS Veterans Home, where he received excellent care from the devoted staff who became his friends and extended family.
He was predeceased by his first wife, Delores McCoy Wandryk in 1999 and second wife, Carolyn Shutz Wandryk on February 17, 2016. Frank was the brother of the late Onofre "Norf" Wandryk, Caroline and Rose Wandryk, Veronica Bezon, Sophie Trybushan, Michael Wandryk and Antoinette Corbelli.
Survivors include his daughter, Debbie (Terry) Paine of Batavia. Son, Frank Wandryk of Tonawanda. Step-sons, Brad (Maryann) Martin of Marston Mills, MA, Craig (Laurie) Martin of Batavia and Doug (Kimberly) Martin of Florida. Grandchildren,Sarah Lidbom, Leslie Szfranski, Julie Molloy, Jacob, Robert and Benjamin Paine. Step-grandchildren, Mariella, Alyssa, CJ, Christopher, Sean and JD Martin. Four great-grandchildren. Sisters, Anne O'Grady of Syracuse, Jane "Jennie" Crowe of Buffalo and Constance (Jerry) McGuire of Fairport. Also survived by several nieces and nephews.
Family and friends are cordially invited to share thoughts, condolences and fond memories on Monday (December 19th) from 5-8pm at the J. LEONARD MCANDREW FUNERAL HOME, LLC, 2 Bogue Ave., Batavia. His Mass of Christian Burial will be celebrated Tuesday, 10:00am at Ascension Parish (corner of Swan and Sumner Streets.). Burial with full military honors will follow in St. Joseph Cemetery.
Memorial contributions  in Frank's memory may be made to Crossroads House, 11 Liberty St., Batavia, NY 14020. Expressions of condolence can be shared with the family at: www.mcandrewfuneralhomes.net.
ARRANGEMENTS WERE ENTRUSTED TO THE J. LEONARD MCANDREW FUNERAL HOME, LLC, 2 BOGUE AVE., BATAVIA, NY 14020. RONALD KONIECZNY II, DIRECTOR.