December 28, 2016 - 1:34pm
Ronald R. Green
Batavia - Ronald R. Green, 92, of Batavia, owner and proprietor of Ron Co. Farms in Batavia, passed away on Sunday, December 25, 2016 at his home doing what he wanted – with his boots on outside working.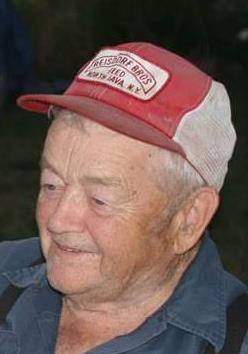 Mr. Green was born September 13, 1924 in Alexander, a son of the late Raymond and Isabella French Green.
After being rejected from the draft because of a heart murmur, he was a quality control inspector for Curtiss Aircraft in Buffalo for the C-46 cargo plane. The C-46 was the first plane capable of flying "over the hump" (India to China through the Himalaya's) to help our Chinese allies defend themselves. He also had a milk truck route where he picked up cans of milk and hauled them to Buffalo and worked for Houseknecht Motors in Batavia.
He loved his farming and was previously active in several local farming organizations. Ron was out on his tractor feeding cows' right up 'til the end. He also loved the Lord with his heart and was always praying and reading his Bible. Ron served as a deacon, secretary and on the board at Batavia Assembly of God for many years and helped build the church on North Spruce Street.
Ron was a giving man who would help anyone in need and always put smiles on people's faces; even those he didn't know. His smile, laughter, with and dry sense of humor will be missed by his family.
His wife of 63 years, Mary Alice Green passed away on October 31, 2004.
Surviving are his children, David (Janice) Green of Hemingway, South Carolina, Alvin ("Chip") Green  and Kathie Green, both  of Batavia; two grandsons, Tim (Cami) Green of Greece and Joe (Angel) Green of Conroe, Texas, his sister-in-law, Shirley Green of Nunda and many nieces and nephews.
He is predeceased by his siblings, Elton Green, Paul Green, Leora Hopkins and Lelia Bowers.
Friends may call on Sunday from 3 to 6 p.m. at the H.E. Turner & Co. Funeral Home, 403 East Main Street, Batavia.  Services will be held at 11 a.m. Monday at Calvary Baptist Church, 3515 Galloway Road, Batavia.  Memorials may be made to the charity of the donor's choice.  Burial will be in West Middlebury Cemetery.  To leave a condolence, share a story or light a candle in Ron's memory, please visit www.bataviafuneralhomes.com.