January 10, 2017 - 3:38pm
Jordyn M. Augello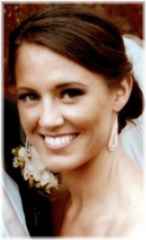 Jordyn M. (Torrey) Augello, 30 of Elba, passed away Monday January 9, 2017 with her family by her side at Strong Memorial Hospital in Rochester. She was born August 25, 1986 in Batavia, to Mark (Catherine Gillard) Torrey of Elba. She is preceded in death by her grandfathers Charles Torrey and John Gillard; father-in-law Frank "Beech" Augello.
She was a graduate of Cornell University class of 2009 and a partner at Torrey Farms, Inc. in Elba. Jordyn had a bright contagious smile that she shared with everyone she met. Since she was a little girl her biggest dream in life was to be a wife and mommy. She was happy with the simple things in life, including her family and the farm. Jordyn loved her husband like no other and he was a rock for her when she needed him the most. She had a gentle easy going way about her with some wise humor mixed in. We will miss her every day but we know she is with us through every changing season and ride around the farm.
She is survived by her loving husband Charles P. "Chooch" Augello, mommy of Carmine Frank and Frances Mary Augello; siblings Molly (Erik) Anderson; Travis (Grace) Torrey all of Elba; Shannon (Matthew) Kyle of Avon; Lucas (Kimberley) Torrey of Stafford; Jed (Kelsey) Torrey of Oakfield; Maxwell (Alyssa Laudico) Torrey of Elba; grandmothers Mary Torrey of Elba, Elin Gillard of Naples, FL; mother-in-law Susan (David Zuppelli) Augello of Batavia; sisters-in-law Santina (Steven) Marsceill of Elba, Kara Long of Elba, Carissa Augello of Albion, nieces and nephews Clara, Lucy, Viola, Charles, Theodore, John, Henry, Selden, Ruby, Everett, Elbert, Jacob, Adrianna, Michael, Maci, Zachary, Lyla, and Ryan; along with many loving aunts, uncles and cousins.
Friends are invited to call on Thursday January 12, 2017 from 4-8PM and on Friday January 13, 2017 from 2-8PM at Gilmartin Funeral Home & Cremation Company, Inc. 329-333 West Main St. Batavia, New York 14020. An 11:00 AM Mass of Christian Burial will be held on Saturday January 14, 2017 at St. Padre Pio Parish (Our Lady of Fatima) 65 South Main St. Elba, New York 14058. She will be laid to rest in Springvale Cemetery, Elba.
In lieu of flowers memorials may be made to Golisano Children's Hospital 601 Elmwood Ave. Rochester, New York 14642. For more information please call (585) 343-8260 or to leave a message of condolence please visit www.gilmartinfuneralhome.com. Arrangements completed by Gilmartin Funeral Home & Cremation Company, Inc. 329-333 West Main St. Batavia, New York 14020.