March 23, 2017 - 11:51am
Joseph D. Snyder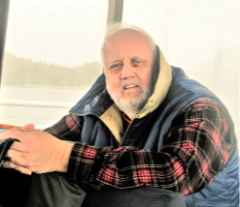 Joseph D. Snyder, 68 of Alexander, passed away peacefully, surrounded by his daughters, on Wednesday March 8, 2017 at Strong Memorial Hospital in Rochester. He was born January 3, 1949 in Batavia, to the late Casper "Jim" (Josephine Hendricks) Snyder. The youngest of seven, Joe is preceded in death by siblings David, Norman (Elsie) Snyder; brothers-in-law Joseph Mazur and Chuck Hephner.
Joe was a man who loved God. He was a carpenter, mechanic and a collector. Joe enjoyed singing, theatre and Jeopardy. A student of Organic Gardening in the 70's, he planted fruit trees and tried his hand at tree-grafting. There is a tree in Alexander to this day which literally bears two different kinds of fruit! His passions were Civil War history and Biblical theology. He desired healing for holocaust victims. In life and in death, he was devoted to his children and his large, life-loving Snyder family. He is deeply missed.
He is survived by his daughters Kayla Silvernail of Batavia; Jennifer Snyder of Columbia, MD; Julie (Johnny) Zook of Halifax, PA; siblings Joanne Mazur of Attica; Edward (Linda) Snyder of Attica; Kathleen Hephner of Alexander; Dan (Rae) Snyder of East Bethany; sister-in-law Catherine Snyder of Cowlesville, 5 grandchildren, 4 great-grandchildren, along with many nieces, nephews and cousins.
Friends are invited to call on Sunday March 26, 2017 from 1-2 PM at Marley Funeral Home, LLC. 135 Main Street Attica, New York 14011. Funeral Services will immediately follow at 2:00 PM. He will be laid to rest in Evergreen Hill Cemetery, Corfu.
Flowers welcome! Memorials may be made to Strong Memorial Hospital Cardiology Department 601 Elmwood Ave. Rochester, NY 14642.  For more information please call (585) 591-1212 or to sign a message of condolence please visit www.marleyfuneralhome.com. Arrangements completed by Marley Funeral Home, LLC. 135 Main Street Attica, New York 14011.