July 4, 2011 - 1:55pm
Tanina "Ida" Barone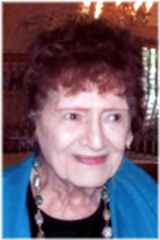 Tanina "Ida" Barone, 98 of Batavia. Died peacefully Sunday July 3, 2011 surrounded by her loving family at United Memorial Medical Center. Born January 4, 1913 in Rochester, NY to the late Frank (Anna Simonetti) DiPiazza Mrs. Barone became woman of the household at 15 upon the death of her mother to take care of her father and brothers. It was during this time she learned to bake bread and lovingly passed her recipe along to her nieces and daughter. She will be greatly missed at weekly Sunday dinners where a place left vacant at the table will be filled by wonderful memories of her in her family's hearts. "Ida" as she was known to her family and friends enjoyed traveling, especially to Italy where she met and married her husband in 1950 while visiting family in Sicily with her father. She was employed by Doehler-Jarvis for 30 years before retiring in 1968. Tanina was a member of the Red Hat Society, the "Lets go Girls" and enjoyed collecting Red Hat memorabilia. She was also a longtime member of Resurrection Parish (St. Mary's Church). She was predeceased by her brothers Vito and Gasper DiPiazza.
She is survived by her devoted husband of 60 years Peter; beloved daughter and son in law Marguerite (Epi) Badami, the joys of her life her grandsons Vinnie, Peter and Michael Badami. "Granddaughter" Crystal and "Great Granddaughter" Lexia Davis survive along with many nieces and nephews. 

Friends are invited to attend calling hours on Wednesday July 6, 2011 from 4 to 8 PM at the Gilmartin Funeral Home & Cremation Company, Inc., 329-333 West Main Street, Batavia, New York 14020. Friends are invited to attend a Mass of Christian Burial on Thursday at 11:30 AM at Resurrection Parish-St. Mary's Church, 18 Ellicott Street, Batavia, New York 14020. Entombment will take place in the Msgr. Francis Schwartz Mausoleum in St. Joseph's Cemetery. 
In lieu of flowers the family suggests memorials be made  to Roswell Park Cancer Institute, Carlton and Elm Streets, Buffalo NY 14263 where she was successfully treated for breast cancer and became a cancer survivor for over 33 years, or the Michael Napoleon Foundation P.O. Box 267 Batavia, NY 14021-0267. For more information or to sign the online guest registry please go to www.gilmartinfuneralhome.com or call 343-8260. Arrangements completed by Gilmartin Funeral Home & Cremation Company, Inc. 329-333 West Main Street Batavia, New York 14020.