July 15, 2011 - 12:26pm
Rose Pierson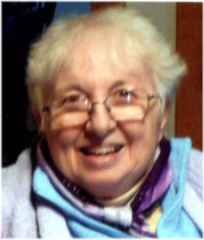 Rose Pierson, 76 of Corfu. Died July 14, 2011 at Rochester General Hospital. Born November 22, 1934 in Batavia, NY to the late Joseph (Mary Armenia) Ottaviani. Mrs. Pierson was retired from the City of Batavia Inspection Department where she worked for over 25 years.  She was a member of the East Shelby Bible Community Church; she loved to dance especially country and western. She was an avid musician playing organ, saxophone, accordion, piano, guitar and harmonica, an avid artist, she enjoyed feeding birds and growing mums and other flowers. She is preceded in death by her brother Peter Ottaviani.
                                                                                                                        
She is survived by her daughters Deborah (Ronald) Sanders of Waterport, NY and Rebecca (Joseph) Hoak of Alexander, 6 grandchildren Maranda Jackson of Attica, Gregory Narburgh of Oakfield, Sarah Sanders and Veronica Sanders of Waterport, Douglas Hale of East Pembroke, and Jennifer Hale of Batavia. 9 Great grandchildren, one niece Linda Sheehan of Akron, great niece Denise Prior and great nephew James Sheehan III also survive.

Friends are invited to call on Monday July 18, 2011 from 4 to 8 PM at Gilmartin Funeral Home & Cremation Company, Inc. 329-333 West Main St. Batavia, NY 14020. Will take place on Tuesday July 19, 2011 at 11:00 AM at the Funeral Home. Interment at Evergreen Hill Cemetery in Corfu.   
The family suggests memorials be made to the East Shelby Community Church, 5278 East Shelby Rd., Medina, NY 14103. For more information or to sign the online guest registry please visit www.gilmartinfuneralhome.com or call (343-8260). Arrangements completed by Gilmartin Funeral Home & Cremation Company, Inc. 329-333 West Main Street Batavia, New York 14020.