September 30, 2011 - 2:32pm
Nacy Theresa Pastore
posted by
Howard B. Owens
.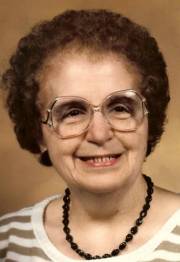 Nacy Theresa Pastore, 92, of Batavia, died Thursday (September 29, 2011) at United Memorial Medical Center.
She was born in Batavia on May 29, 1919, a daughter of the late James and Jennie Ricotta.
Her husband, Nicholas "Jim" Pastore died on May 28, 1998.
Mrs. Pastore was a sales clerk at the former W.T. Grant Co. of Batavia and was a line worker at GTE Sylvania prior to her retirement in 1975.
She was a member of Resurrection Parish and enjoyed bingo and playing cards.
Surviving is a son, Bob (Karen) Pastore of Batavia.  Five grandchildren, Bill (Michelle) Pastore, Bob Pastore, Michael (Kathy) Pastore, Chrissy (Joe) Prucha and Debby (Mike) Riggi.
Five great grandchildren, James, Cassidy, Valerie, Masha and Chloe.
A sister, Sarina Barone of Rochester.
She is the mother of the late James Pastore who died in 1997 and sister of the late Joseph Ricotta.
Visitation will be Monday (10/3/11) from 8AM to 9:15AM at the J. Leonard McAndrew Funeral Home, LLC, 2 Bogue Ave., Batavia where prayers will follow.  A Mass of Christian Burial will be at 10AM at Resurrection Parish, (St. Mary's Church). Interment will be at St. Joseph Cemetery.
In lieu of flowers the family requests memorials may be made to the Genesee County ARC, 64 Walnut St., Batavia, NY 14020 or to a charity of the donors preference.
Expressions of condolence may be made at: www.mcandrewfuneralhomes.net.
Arrangements were entrusted to the J. Leonard McAndrew Funeral Home, LLC, 2 Bogue Ave., Batavia, NY 14020.  Ronald P. Konieczny II, director & proprietor.