December 11, 2011 - 6:39pm
Larry N. Capuano
posted by
Ronald Konieczny
.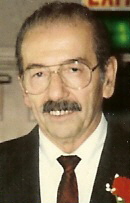 Larry N. Capuano, 85 of Batavia, died Sunday (December 11, 2011) at Buffalo General Hospital.
He was born in Batavia on December 13, 1925, the son of the late Frank and Lucy Cottichio Capuano.
Larry was a Navy Veteran of WWII and a bartender at the former Mancuso Restaurant  in Batavia for 45 years.  He was also a member of St. Anthony's Church.
Survivors include his loving wife of 58 years, Louise Grasso Capuano of Batavia. Three sons, Gary (Laura) Capuano of Batavia, Dennis (Pam) Capuano of Alexander and Donald (Cheryl) Capuano of Byron. Two daughters, Linda Baker and Karen Capuano, both of Batavia.  Sister, Loretta (Jerry) Greco of Batavia. Grandchildren, great-grandchildren, nieces, nephews and cousins also survive.
He was the father of the late David Capuano, father in-law of the late James Baker and brother of the late Marie Capuano, Vincent Capuano, Sal Capuano and Anita Capuano.
A Mass of Christian Burial will be Tuesday (Dec. 13th), 11:30am at Ascension Parish (St. Anthony Site). Interment will be in St. Joseph Cemetery.
For those desiring, memorial contributions may be made to Genesee Cancer Assistance, 16 Bank St., Batavia, NY 14020.
Arrangements were entrusted to the J. Leonard McAndrew Funeral Home, LLC, 2 Bogue Ave., Batavia, NY 14020. Ronald P. Konieczny II, Director & Proprietor