January 17, 2012 - 5:25pm
Frederick J. Nichols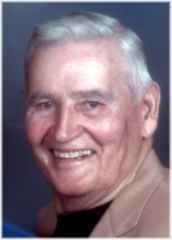 Frederick J. Nichols, 83 of Corfu died January 16, 2012 at the New York State Veterans Home in Batavia. He was born March 6, 1928 in Medina, NY to the late Frederick H. ((Louise L. Lennox) Nichols. Mr. Nichols worked 42 years for Niagara Mohawk as a General Line Foreman. He was a WWII Army Veteran, member of the Cornerstone Church in East Pembroke, and an antique car collector. He is preceded in death by brothers Cliff, Robert, and Francis Nichols; sisters Eleanor Myntti, Bonalyn Dombrowski, and Ethel Hayes.   
He is survived by his beloved wife Virginia Nichols of Corfu; sons Roger (Lorna) of CO; Mark of Corfu; Steven (Cheryl) Nichols of Windermere, FL; brother Richard Nichols of N. Collins; sisters Esther Halstead of NV; Mae Kopper of Alexander; Monica (Frank) Neindorf of FL; 4 grandchildren Brooke (Gabe) Milter, Lindsay (John) Carr, Shelby (Shawn) Gibbons, Makaila Nichols, 3 great-grandchildren Colby, Bailey and Jayden along with many nieces and nephews.
Friends are invited to call on from 3 to 7 PM on Thursday January 19, 2012 at Gilmartin Funeral Home and Cremation Company, Inc. 329-333 West Main Street Batavia, New York 14020. 11:00 AM Funeral Services will take place on Friday January 20, 2012 at the Cornerstone Church 2583 Main Road East Pembroke, NY 14056. Interment will take place in the Grand View Cemetery.
Memorials may be made to the Church. For more information or to sign the online guest registry please go to www.gilmartinfuneralhome.com or call 343-8260. Arrangements completed by Gilmartin Funeral Home & Cremation Company, Inc. 329-333 West Main Street Batavia, New York 14020.