April 11, 2012 - 5:28pm
Laura E. Niedermaier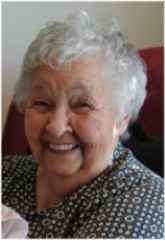 Laura E. Niedermaier, 86, passed away Saturday (April 7th) at the Trevecca Health Care Center in Nashville, TN following a short illness. Born September 12, 1925, she was the youngest daughter of the late Cassius and Edna Julian Cline.  She was predeceased by her husband, Richard Armstrong, in 1973.  She later married Adolph Niedermaier who predeceased her in 2004.  Laura was also predeceased by three brothers Merle, Milton and Shirley and two sisters Eleanor Emo and Gladys Bush.
Laura worked various factory and office work jobs as well as the farm of her second husband, Adolph.  She cherished the years she spent volunteering with the Wyoming County Foster Grandparent Program. Since relocating to Tennessee in 2007 she has spent her time volunteering at the local longevity center, attending bible study and church, visiting with great-grandchildren, reading and listening to Southern Gospel music.
Laura was a committed follower of our Lord Jesus Christ.  Throughout her life Laura regularly spent time reading her Bible, attending Bible studies, church services and studying the Lord's Word.  She had a strong prayer life and faithfully interceeded for her family and friends needs through prayer.  She strongly believed that Jesus Christ was her savior, that he took her sins on himself at the cross and triumphed over Satan through resurrection.  Her faith was more than a comfort to her, it was cornerstone of how she lived her life.  If you have not put your trust in Christ there no better time than the present.
If you declare with your mouth, "Jesus is Lord," and believe in your heart that God raised him from the dead, you will be saved.
For it is with your heart that you believe and are justified, and it is with your mouth that you profess your faith and are saved.
As Scripture says, "Anyone who believes in him will never be put to shame."   
Romans 10:9-11
Laura is survived by her brother Carl Cline of Silver Springs; daughter Joy Armstrong-Fitch of Silver Springs; step-children Theresa Bowman (Randy) of Texas, Melinda Sherwood (Lynn) of Kentucky, Butch Niedermaier (Kelli) of Andover, Kris Wallace (Bill) of Bolivar, Billy Niedermaier (Jodi) of Andover, Tony Niedermaier (Dawn) of Andover, John Niedermaier (Jenna) of Odessa; grandchildren Karissa (Shaun), Ian and Emilee as well as her great-grandchildren, numerous nieces, nephews and other extended family and friends.
Friday, April 20th at 11am we invite friends and family to attend the graveside burial service for Laura in Hartsville, NY at the Cline Family Cemetery (also known as the Comfort Cemetery) located at the corner of Purdy Creek Road (County Route 28) and Ashbaugh Hill Road (County Route 64).  Pastor Duff will be officiating.
 
In lieu of flowers, memorial contributions may be made in Laura's name to the Rock Glen Baptist Church:  4311 Route 19, Rock Glen, NY 14550. For more information or to sign the online guest registry please visit www.eatonwatsonfuneralhome.com or call 237-2626. Arrangements completed by Eaton-Watson Funeral Home, LLC. 98 North Main Street Perry, New York 14530.