April 15, 2012 - 2:49pm
Russell C. "Butch" Hebell
posted by
Ronald Konieczny
.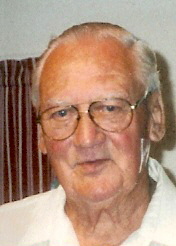 Russell C. Hebell, "Butch", 86, of Batavia, formerly of East Bethany, died Saturday (April 14, 2012) at the NYS Veterans Nursing Home in Batavia. 
He was born in Alexander, NY on August 24, 1925, a son of the late Carl F. and Marie Horn Hebell.
Mr. Hebell was a WWII veteran of the US Army from 1944 to 1946 where he served with the 89th Infantry division.  He was retired from Tri-County Ford where he was a salesman and Batavia Downs where he was a State Patrol Judge.  He was a former president of the Genesee County Democratic Party, former Town of Bethany Chairman, charter member of the Bethany Center Vol. Fire Co. and member of the Joseph M. Collins Post VFW in Alexander. He enjoyed gardening, pitching horseshoes, traveling and spening his retirement in Florida.
He is survived by his wife of 68 years, Marion Earl Hebell whom he married on January 31, 1944. His children, David (Sylvia) Hebell of Batavia, Linda (Russell) Sutfin of Wayland, NY.  Grandfather of, Milissa Rector, Deanna Virgo, Christina (Michael)Bak, Pamela Adamski and Charles Hebell.  Great grandfather of, Noah Rector, Jenna Jaszko and Olivia Walton.  Step grandchildren, Doug, Rachel, Kelly and Rob.  Step great grandchildren, Joseph, Jake and Anna.  A Brother of Lee (Linda) Hebell of Webster, NY.  A niece and nephew, Lindsey and Lee Hebell.
He is the father of the late Ann Adamski Hurley and grandfather of the late Matthew David Hebell.
Family and friends are cordially invited to share their thoughts, condolences and fond memories with the family at the J. LEONARD MCANDREW FUNERAL HOME, LLC, 2 BOGUE AVE. BATAVIA on Tuesday from 3 - 7 PM. Services will be Wednesday at the funeral home at 10 AM followed by burial with full military honors at Maple Lawn Cemetery, Bethany Center Road, Bethany.
Those desiring may make memorial contributions to the Bethany Center Vol. Fire Co. or NYS Veterans Home.
Expressions of condolence may be made at: www.mcandrewfuneralhomes.net.
The family entrusted arrangements of Russell C. "Butch" Hebell to the J. LEONARD MCANDREW FUNERAL HOME, LLC, 2 BOGUE AVE., BATAVIA, RONALD P. KONIECZNY, DIRECTOR & PROPRIETOR