April 30, 2012 - 1:57pm
KEVIN LAWRENCE BERL
posted by
Howard B. Owens
.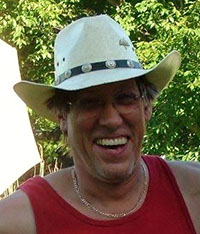 KEVIN LAWRENCE BERL, age 57, passed away peacefully, surrounded by his loving family, in his home in LeRoy on April 28th 2012.
He was born May 21st 1954, in Rochester, NY of the late Lawrence H. Berl & Dolores (Siplo) Berl of Penfield. He was a loving Husband, Father, and Grandfather.  He was a 1972 Penfield High Graduate who would have attended his 40th high school reunion this Year.  He worked a full time job as a machinist for more than 30 years. Many people knew him as having a part time passion for being a DJ.  He had a loving passion for God and his Family which was evident in his daily life.   He will be remembered by many as "that tall guy with the cowboy hat" he had an answer for everything and anything for many people, and could hold a conversation for hours with anyone as long as you gave him the time! Gadgets and gizmos and computers were of plenty for this man, and always willing to help a fellow man in need.  God has truly opened the heavens to receive an amazing spirit that his family and friends will forever remember.
He is survived by his loving wife Gloria Berl (LeRoy) who he married on August 20th 2004 and sons Kendric & (Cortney) Berl (LeRoy) Jason (Vanessa) Berl (Webster) Geoffrey &( Joeylyn) Berl (LeRoy) & Daughter Stephanie Sumeriski Berl (Batavia). Step-daughters Tiffany & (Ryan) Appleton (Long Island, NY) & Cori Majors (Batavia). And 14 grandchildren Dylan, Brooke, Kristopher ,Kaleb, Jaden, Calleigh, Mikah, Micheal, Collin, Jacob, Olivia, Morgan, Elizabeth, and Amber.
Family & friends may call at the Cameron Brady & Steuber Funeral Home, 111 Wolcott St. (Rt. 19 South) LeRoy, on Wednesday from 4-7PM.  Funeral services will be held on Thursday at 10:30AM at the Cavalry Baptist Church, 8703 Lake Street Road, LeRoy.  In lieu of flowers, memorial contributions may be made to the family ICO Kendric Berl, 9252 Robbins Rd. LeRoy NY 14482.  To leave an online condolence, please visit www.LeRoyFuneralHome.com