June 4, 2012 - 5:47pm
Maude Ella Wilder
posted by
Ronald Konieczny
.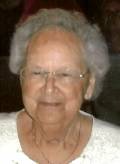 Maude Ella Wilder, 85, of Batavia, died Monday (June 4, 2012) at her residence.
She was born in Batavia on July 19, 1926, a daughter of the late Harley and Florence Colby Bort.
She was a fifty year member of the Eastern Star and a member of the Olive Branch Chapter 509 in LeRoy and member and Past Maron of the Hesperus Chapter 823 of Bergen.
She enjoyed playing Domino's and  other games, quilting and sewing and making porcelain dolls and ceramic figures.  She was an baseball fan and held  season tickets for the Batavia Muckdogs baseball games.
Surviving is her husband of 61 years, Horace H. Wilder whom she married on May 2, 1951.  Daughters, Cheryl (Thomas) Hance of Willoughby Hills, OH and Nancy (Barney) Mitchell of Batavia.  Six grandchildren: Frederick (Lisa) Hance, David Hance, Jeffrey (Shannon) Hance, Michael (Gina) Wilder, Melissa (Lorne) Kurtz and Samantha Mitchell. Seven great grandchildren: Thomas, Dustin, Travis and Riley Hance, Victoria and Kalifornia Kurtz and Brandon Wilder.  Daughter in law, Kathy Wilder of Sacramento, CA.  She was the mother of the late Charles Wilder who died on September 14, 2011. 
Friends of the family are cordially invited to share their thoughts, condolences and fond memories with the family on Wednesday from 2 - 4 and 6 - 8 pm at the J. LEONARD MCANDREW FUNERAL HOME, LLC, 2 BOGUE AVE., BATAVIA. Services will be on Thursday at 10 am at the funeral
home officiated by Rev. Linda Haight, Pastor of the South Byron United Methodist Church where Maude was a member for many years. Interment will be in Pleasant View Cemetery in Alexander.
Those desiring may make memorial contributions to the Easter Star Home, P.O. Box 959, Oriskany, NY 13424.
Expressions of condolence may be made at: www.mcandrewfuneralhomes.net
ARRANGEMENTS WERE ENTRUSTED TO THE J. LEONARD MCANDREW FUNERAL HOME, LLC, 2 BOGUE AVE., BATAVIA.  RONALD P. KONIECZNY II, DIRECTOR & PROPRIETOR.