July 12, 2012 - 3:32pm
Phyllis E. Gray
posted by
Ronald Konieczny
.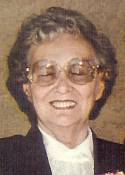 Phyllis, E. Gray, 94, a long-time resident of Batavia, died Sunday (July 8, 2012) at the home of her daughter in Las Cruces, NM, where she had resided since 1998.
She was born in Batavia on November 2,1917, the youngest child of Harry J. Hawkins and Ida P. Hunter Hawkins.  She is predeceased by sisters; Mildred (late John) Valentine, Carolyn (late Pete) Gifford, Evelyn (late Alfred) Gover and her brother Ernie (late Ethel) Hawkins.  She was the mother of the late Sue Ellen Jackett who died in 2004.
Survivors include three daughters; Carol A. (Rex) Zillman of Longview, Tx, Nancy E. (Richard) Hickox of Las Cruces, NM and Cheryl J. (William) Miller of Batavia.  Eleven grandchildren and several great grandchildren also survive.
Friends of the family are cordially invited to share their thoughts, condolences and fond memories with the family on Friday (July 20th) from noon to 1 pm at the J. LEONARD MCANDREW FUNERAL HOME, LLC., 2 BOGUE AVE., BATAVIA where services will follow.  Interment will be in Elmwood Cemetery.
Flowers are greatfully declined.  Memorials are suggested to The First United Methodist Church, 8221 Lewiston Rd., Batavia, NY 14020.
Arrangements are entrusted to the J. LEONARD MCANDREW FUNERAL HOME, LLC., 2 BOGUE AVE., BATAVIA.  RONALD P. KONIECZNY II, PROPRIETOR AND LICENSED DIRECTOR