July 25, 2012 - 5:34pm
Arthur L. Kirkum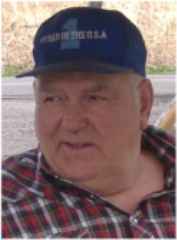 Arthur L. Kirkum, 75 of Batavia, died July 22, 2012 at the United Memorial Medical Center. He was born on May 22, 1937 in Cameron, NY to the late Elmer (Martha Vanzile) Kirkum. Art enjoyed horses and was well known as a member of the Niagara Frontier Horseman's Association and a lifelong member of the Attica Rodeo Association. He also had a lifelong passion for hunting, trapping, snowmobiling, stockcar racing, and NASCAR. He will be fondly remembered as a skilled gardener by those that frequented his roadside stand and for his weekly trips to local auctions where he sold his produce. He retired from My-T- Acres in 1995 after 33 years.
He is survived by his beloved wife of 56 years Geraldine E. (Shoemaker) Kirkum of Batavia; son Ritchie Kirkum of Oakfield; daughters Deborah Kirkum of Batavia; Brenda (Peter) Chartraw of Oakfield; grandchildren Ritchie (Jennifer) Kirkum Jr., Jason, Jared, Paige Kirkum, Nicole Burlock, Melissa, Lindsay Bartholf, David Bartholf Jr., Bridget, Brooke Chartraw, great-grandchildren Riley, Colin Kirkum, Jonathon, Jacob Stewart, two sisters along with many nieces and nephews.  

There will be no prior calling hours. A Memorial Service will be held at the Alabama Fire hall on  August 11, 2012 at 1:00 PM.     
In lieu of flowers memorials may be made to the family. For more information or to sign the online guest registry please visit www.gilmartinfuneralhome.com or call 343-8260. Arrangements completed by Gilmartin Funeral Home & Cremation Company, Inc. 329-333 West Main Street Batavia, NY 14020.