August 23, 2012 - 8:17am
Rose Talone Condello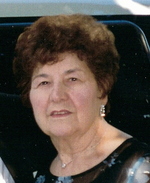 Batavia - Mrs. Rose Talone Condello, 89, of Batavia, died Wednesday, August 22, 2012 at St. John's Home, in Rochester.

 Mrs. Condello was born April 28, 1923 in LeRoy, the daughter of the late John and Lena Arango Talone.

She was a member of Resurrection Parish, St. Joseph's Church for many years and truly enjoyed her family and friends.

She was married to Frank Condello who died in 2001 and was the sister of the late Jasper, Santo, John and Frances DiSalvo, Sadie Wilcox and Elvira Kittle.

Survivors include her daughter, Louise Condello of Batavia; her sister, Josephine Giordano of Florida and her aunt, Betty Zito of California. Also surviving are several nieces, nephews, great and great great nieces and nephews.

Friends may today from 6 to 8 p.m. at the H.E. Turner & Co. Funeral Home, 403 E. Main Street, Batavia. Her Mass of Christian Burial will be at 12:00 p.m. Friday at Resurrection Parish - St. Joseph Church, 303 E. Main St.  Entombment will be in St. Joseph's Mausoleum, Batavia.

 In lieu of flowers memorials to the family to be distributed to various charities.
To light a candle, share a story or leave a condolence please visit  www.bataviafuneralhomes.com.