September 25, 2012 - 6:15pm
Mary A. Hartley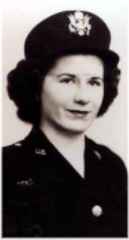 Mary A. Hartley, 90 of Batavia  died September 24, 2012 at United Memorial Medical Center in Batavia. Mary was born in Brockton, Massachusetts, on September 26, 1921, to George and Agnes Kelly Kiley of Randolph, MA. She was a graduate of the Boston City Hospital School of Nursing. Mary served as a 1st Lieutenant in the Army Nurse Corps during World War II. She worked as both a staff nurse, and a private duty nurse at St. Jerome Hospital, the Veterans Hospital in Batavia, and as a case worker for the Genesee County Department of Social Services. She was active in the women's organizations of Our Lady of Fatima Church in Elba and St. Mary's Church in Batavia. Mary was active at the Senior Center and with the Independent Association of Retired Persons following her retirement. Her greatest joys in life were her family, her church, the Boston Red Sox and the Buffalo Bills. She is preceded in death by a daughter Kathleen Catino; brothers George and Thomas Gorman Kiley; sisters Therese Sullivan; Irene Sylvain and Joan Colbeth. 
She is survived by sons Frank (Gretchen) of The Woodlands, TX; Paul of Vontville, CA; Thomas (Pamela) of Rochester; Peter of Churchville; Howard (Laurie) Hartley of Spring, TX; daughters Susan (Barton) Dambra of LeRoy; Mary Balonek of Virginia Beach; Ann (Joseph) Zawicki of Elba; Eileen (Steve) Vincent of Rockport, TX; brother John Paul Kiley of MA; sister Jane Delorey of MA; 25 grandchildren, 27 great-grandchildren along with many nieces and nephews. 
Friends are invited to call on Thursday September 27, 2012 from 4 to 8 PM at Gilmartin Funeral Home & Cremation Company, Inc. 329-333 West Main Street Batavia, New York 14020. A 9:30 AM Mass of Christian Burial will take place on Friday September 28, 2012 at Resurrection Parish – St. Joseph's Church 303 East Main St. Batavia, New York 14020. Interment will take place St. Joseph's Cemetery, Batavia.
In lieu of flowers memorials may be made to the New York State Veterans Home Activities Fund 220 Richmond Ave. Batavia, NY 14020, United Memorial Medical Center 127 North St. Batavia, NY 14020 or to Resurrection Parish 303 East Main St. Batavia, NY 14020. For more information or to sign the online guest registry please go to www.gilmartinfuneralhome.com or call 343-8260. Arrangements completed by Gilmartin Funeral Home & Cremation Company, Inc. 329-333 West Main Street Batavia, New York 14020.