November 7, 2012 - 3:41pm
Helen Tomaselli
posted by
Ronald Konieczny
.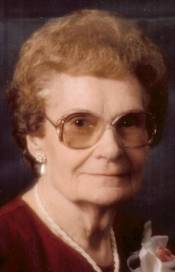 Helen Tomaselli, 92, of Batavia, died Tuesday (Nov. 6, 2012) at Genesee County Nursing Home.  She was born in Lancaster, NY on June 5, 1920 a daughter of the late Stanley and Scholastica Olewinska Cichocki.
She was the wife of George A. Tomaselli Sr. who died in 1989.  For over 10 years, she was employed by Doehler Jarvis Co, Division of National Lead as a die cast inspector.  Her memberships include Ascension Parish, the Altar and Rosary Society and the Apostleship of Prayer.
Surviving are three sons: George A Tomaselli Jr.(Maxine Parada) of Medina, Samuel (Nancy) Tomaselli of Batavia, James Tomaselli (Connie Chatley) of E. Pembroke, Daughter, Georginne (Jack) Majerus of Batavia. Son in law, Irvin Bartz of Batavia.  Eight grandchildren and 11 great grandchildren.  Brother, John (Elaine) Cichocki of Akron and sister in law Barbara Cichocki of Medina. Several nieces and nephews also survive.
She is the mother of the late Diane Bartz who died in 2011, mother in law of the late Joann Tomaselli who died in 2000,  grandmother of the late Risa Helene Bartz and Richard Allen Tomaselli and sister of the late Agnes Spiotta, Stephen Cichocki, Bertha Kopcieowski, Antonia Nayman, Sophie Adamczyk, Michael and Walter Cichocki.
Friends of the family are cordially invited to share their thoughts, condolences and fond memories with the family at the J. LEONARD MCANDREW FUNERAL HOME, LLC., 2 BOGUE AVE., BATAVIA on Friday from 4 - 8pm. Prayers will be Saturday at 9:15am at the funeral home followed by a Mass of Christian Burial at 10am at Ascension Parish (Sacred Heart Church). Burial will be in St. Joseph Cemetery.
Those desiring may make memorial contributions to the American Cancer Society.
The Altar and Rosary Society will recite the rosary at the funeral home on Friday at 3:30pm. 
Expressions of condolence may be made at: www.mcandrewfuneralhomes.net.
Arrangements were entrusted to the J. LEONARD MCANDREW FUNERAL HOME, LLC., 2 BOGUE AVE., BATAVIA.  Ronald P. Konieczny II, director & proprietor.