November 25, 2012 - 7:51pm
Margaret G. Skippen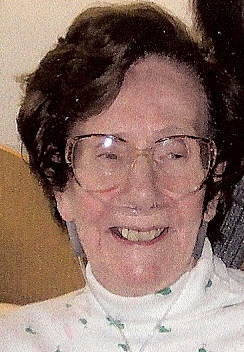 BATAVIA – Margaret Georgina Docherty Patterson Skippen, 97, of Batavia, passed away peacefully on Friday (Nov. 23, 2012), at the LeRoy Village Green, in LeRoy.

Mrs. Skippen was born on March 4, 1915, in Mt. Vernon, Glasgow, Scotland, a daughter of the late George and Mary (Barr) Patterson.

Margaret was born while her father was in France with the Argyle and Southern Highlanders during World War I, she was given the middle name Georgina in honor of her father.

Peg was a devoted reader, and enjoyed working word and crossword puzzles. She maintained a life-long pride in her Scottish heritage and regaled family and friends with tales from Scotland complete with traditional songs and Scottish history.

She was the wife of the late Russell "Skip" Skippen who passed away in 1999.

Mrs. Skippen is survived by eight nieces and nephews, Sharon (Paul) Wolff, Sandra  (late Jim) Fricker, Bob (Carol Lynn) Stevens, Lesley (Ed) Carney, Denise (Michael) Rotko, Pam (Tom) Funk, Rob Hawkins, and Mary Beth (Leonard) Rusiewicz; and their families.  A sister-in-law, Pauline (Jim) Canty also survives.

Along with her husband, Margaret is preceded in death by her sisters, Elizabeth "Bess" ( late Edward) Jennings, Janet "Jay" ( late Robert) Stevens, Anne "Nan" (late Harry) Hickey, and Mary "May" (late Robert) Hawkins; and a brother, George Patterson.

There will be no prior visitation.  Peg's Funeral Service will be held at H.E. Turner & Co. Funeral Home, 403 East Main Street, Batavia on Thursday at 1:00 p.m.   Flowers are gratefully declined, but those wishing may make a memorial donation to Crossroads House, 11 Liberty Street, PO Box 403, Batavia, NY 14021.  Burial will be in Elmwood Cemetery, Batavia.  Please light a candle, share a story, or leave a condolence at www.bataviafuneralhomes.com.