January 9, 2013 - 6:48pm
Wenole "Winnie" Deiter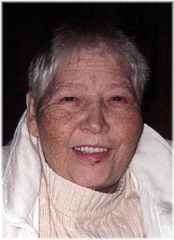 Wenole "Winnie" Deiter, 74 of Perry, died January 8, 2013 at Noyes Memorial Hospital in Dansville. She was born July 9, 1938 in Pike to the late Everett (Irene Burger) Ackerman. Mrs. Deiter was a longtime member of the Brick Presbyterian Church of Perry, very active in the church with women's groups and bible studies. She volunteered for the March of Dimes and often participated in the Walkathons. Winnie was an avid bowler. She is preceded in death by a daughter Jody Jones Deiter (2000), grandson CJ Deiter (1983) and brother Lyle Ackerman (2006).
                                                                                                                        
She is survived by her beloved husband Paul Deiter of Perry; sons Collins (Donna) Deiter of Norfolk, VA; Brian (Bonnie) Deiter of Perry; daughter Theresa (Roy) Yamonaco of Leicester; brothers Gregory Ackerman of Iowa; Wendell Ackerman of Nunda; Everett Ackerman Jr. of Pike; sisters Virginia (Steve) Frazier of Gainesville; Shirley (Clark) Hurlburt of Gainesville; Mary (James) Fuss of Arcade; 9 grandchildren, 14 great-grandchildren, along with many nieces and nephews. 
Friends may call from 7 to 9 PM on Friday January 11, 2013 at the Eaton-Watson Funeral Home, LLC. 98 North Main St. Perry, New York 14530. Funeral Services will be held on Saturday January 12, 2013, 11:00 AM at the Funeral Home. Interment will be in Elmwood Cemetery, Silver Springs.
Memorials may be made to the National Kidney Foundation, Inc. at www.kidney.org.  For more information please call (585) 237-2626 or to sign the online guest registry, please visit www.eatonwatsonfuneralhome.com. Arrangements completed by Eaton-Watson Funeral Home, LLC. 98 North Main Street Perry, New York 14530.