January 19, 2013 - 8:29pm
ELDOUNE A. THORNTON JR.
posted by
Michael Tomaszewski
.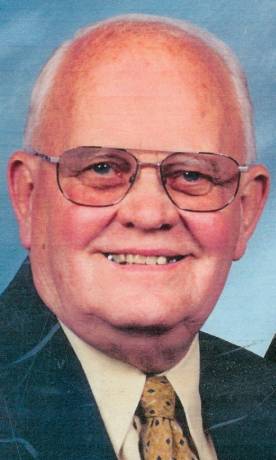 Age 84, of Batavia, retired President of the former Beardsley's Clothing Store, died peacefully Saturday morning January 19, 2013 at the Martin-Linsin Residence @ Hospice of Orleans. He was born April 22, 1928 in Batavia, a son, of the late Eldoune A. & Elsie (Ruoff) Thornton Sr., also preceded in death by his wife of 56 years, Janet (Moore) Thornton in 2005, and a sister, Marilyn Thornton Dilcher in 2003.
     Mr. Thornton was a graduate of Valley Forge Military Academy, attended Syracuse University and Bryant & Stratton College. In 1950 he entered the United States Army during the Korean Conflict and was discharged a Master Sergeant in 1952. Al started as a salesman at E. J. Beardsley Co. clothing store in 1947, then with two associates purchased the business in 1964 and was the first retail store to rebuild on Main Street in 1967, during the Court Street Urban Renewal Project. He was later joined in the business by his two sons, Dwight & Timothy; they expanded into women's clothing and a sports department, known as Beardsley's Fan Stand. Al's wife also operated a craft department in the store until 1997. He was long active in the Batavia community, an honorary member and past president of the Batavia Rotary Club, and a Paul Harris Fellow, one of Rotary's highest honors. He was instrumental in forming a committee to operate the concession stand for the Rotary Club at Dwyer Stadium, co-chairing the project for twenty five years. A past president of the Batavia Junior Chamber of Commerce, served as secretary/treasurer of the Batavia Chamber of Commerce, past president of the former Genesee Memorial Hospital Board, past president of the Children's Home Association, was one of the founders of Batavia Youth Football and served as secretary/treasurer for many years, served on the City of Batavia Water & Sewer Board, Urban Renewal Agency and former treasurer of the Hawley Assembly Committee for former New York State Assemblyman R. Stephen Hawley. A former member of the Batavia Club, former Moose Club and Elks Lodge, member of the American Legion Post #332, a fifty year member of the First Presbyterian Church, former Deacon, Elder and Clerk of Session and President of the 20-30 Club. An avid baseball fan, he enjoyed woodworking, rebuilding player pianos, a selfless man who was always giving to his family and back to the community.
     Surviving are loving sons, Dwight (Tina) Thornton and Timothy (Margaret) Thornton both of Batavia; 7 grandchildren, 7 great-grandchildren along with several nieces, nephews, cousins and dear friends.
     Family and friends may visit from 4-7 PM on Tuesday January 22, 2013 at the Michael S. Tomaszewski Funeral & Cremation Chapel, LLC 4120 West Main Street Road Batavia, New York 14020 where a Prayer Service will celebrated by Monsignor Leo McCarthy at 7:00 PM. Memorials in Al's memory are suggested to Notre Dame High School Union Street Batavia, New York 14020 or Hospice of Orleans 14080 Rt. 31W Albion, New York 14411. He will be laid to rest with his wife in Grand View Cemetery and for more information please call Michael at (585)343-7500.
THE FAMILY OF ELDOUNE A. THORNTON JR. IS BEING CARED FOR BY THE MICHAEL S. TOMASZEWSKI FUNERAL & CREMATION CHAPEL, LLC 4120 WEST MAIN STREET ROAD BATAVIA, NEW YORK 14020.