March 29, 2013 - 4:27pm
James E. Jones
posted by
Ronald Konieczny
.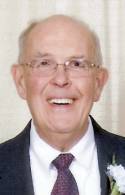 James E. Jones, 74, of Batavia, died Thursday (March 28, 2013) at Rochester General Hospital.
He was born in Stanford, NY on March 16, 1939, a son of the late Edward and Gladys Cronk Jones.
Mr. Jones was a transportation and shipping executive for several companies including the former Eaton Yale & Towne in Batavia.  He had also worked for the ARC of Genesee County in his later years.  Jim was an Eagle Scout and a Scout Master for Troop 7 and Cub Master for Pack 112 all in Batavia. He was a minor league and little league coach for many years with several Batavia teams.  He was a member of Resurection Parish in Batavia.
Surviving is his wife of over 52 years, Paula A. Klimczak Jones whom he married on July 21, 1960.  His sons: Edward (Joyce) Jones, Paul (Denise) Jones and Carl Jones all of Batavia and David Jones of Plano, TX.  A daughter, Lorie (Richard) Ullman of Monclair, NJ. Eight grandchildren: Jacob, Amanda, Kristopher, Courtney, Alison and Alexander Jones, Violet and Nate Ullman. Three brothers:  William (Patricia) Jones of Raleigh, NC, Donald (Glenda) Jones of DeBary, FL and Thomas Jones of Newton, MA. Three sisters: Barbara Hughes of Richmond, VA, Betty Lu SanGeorgi of Albuquerque, NM and Margaret Scott of Boston, MA.  He is the brother of the late Nancy Jones.
Friends of the family are cordially invited to share their thoughts, condolences and fond memories with the family on Monday from 4 to 8 PM at the J. LEONARD MCANDREW FUNERAL HOME, LLC, 2 BOGUE AVE., BATAVIA, where prayers will be Tuesday at 8:45 AM followed by a Mass of Christian Burial at 9:30 AM at Resurection Parish (St. Joseph Church).
In lieu of flowers, memorials may be made to ARC of Genesee County or the family for distribution to various charities. 
Expressions of condolence may be made at: www.mcandrewfuneralhomes.net.
Arrangements were entrusted to the  J. LEONARD MCANDREW FUNERAL HOME, LLC,  2 BOGUE AVE., BATAVIA.  RONALD P. KONIECZNY II,  DIRECTOR & PROPRIETOR.