April 24, 2013 - 11:46am
Dutch (Heenan) Howard
posted by
Ronald Konieczny
.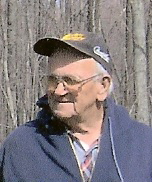 Dutch (Heenan) Howard, 76, of Batavia, passed away Saturday (April 20, 2013) at Strong Memorial Hospital.
Mr. Howard was born July 2, 1936 in Batavia, son of the late Heenan and Frieda Williams Howard.
He served in the Army Reserves and was a tractor-trailer owner/operator for 40 years.  Dutch was an Operating Engineer with a Local Union in Rochester.  He was also employed by Houseknecht Motors, L & L Transmission and All County Towing & Recovery. He was a proud member of the Wyoming Co. SPCA.
Dutch loved his family, friends, cats and dog Maggie.  He loved working, helping friends, Nascar, feeding his birds, wild ducks and geese that visited the creek behind his home.
He will be terribly missed by his beloved wife of 52 years, Donna (Marshall) Howard. Daughter, Wendy (Ken Thomas) Howard of Batavia. Son, Rodney Howard of Akron. Grandson, Jack Dudkiewicz of North Carolina. Brother, Donald Howard of Rochester. Sister, Catherine (Charles) Snell of Leroy. Brother-in-law, Leonard Shuknecht of Elba. Also survived by many nieces, nephews and friends who will be forever grateful he was part of their lives.
He is predeceased by brothers, Harold, Herbert and Richard Howard.  Sisters, Dorothy Wolff, Hazel Howard and Jean Shuknecht.
There is no prior visitation. A celebration of Dutch's life will be held at his home, Roaring Creek Lodge, 2761 West Main Rd., Batavia, on Saturday (April 27, 2013) from noon until 4 p.m. A luncheon will be served. In lieu of flowers, the family requests memorials be made to the Wyoming Co. SPCA, 808 Creek Rd., Attica, NY 14011.
Expressions of condolence may be made at: www.mcandrewfuneralhomes.net.
Arrangements were entrusted to the J. Leonard McAndrew Funeral Home, LLC, 2 Bogue Ave., Batavia, NY. Ronald Konieczny II, Director & Proprietor.