April 24, 2013 - 6:54pm
Jean I. Claus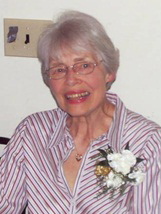 Bergen – Jean I. Claus, 78, of Bergen, the church secretary of the First Presbyterian Church of Bergen, passed away Monday, (April 22, 2013) at Rochester General Hospital.
Mrs. Claus was born April 18, 1935 in Rochester, a daughter of the late Willis J. and Helen (Brockmyer) MacDonald.
Jean was a member of the First Presbyterian Church of Bergen.  Her favorite time of year was spring, and she greatly enjoyed gardening and flowers.  She deeply loved her husband, children, and grandchildren.  Jean will be remembered by all who knew her as a kind compassionate person. 
She is the wife of Roland D. "Ron" Claus whom she married June 16, 1956.
Along with her husband, Jean is survived by her children, Jeffrey (Patricia) Claus of Victor, Eric (Laurie) Claus of Bergen, and Timothy (Dawn) Claus of Batavia; grandchildren, Jeannie (Simon) Sheehan of VA and Michelle (Matt) Drahms of Clyde; great-grandchildren, Olivia and Audrey Sheehan of VA, Tanner and Adrianna Drahms of Clyde; a brother, Bruce (Elaine) MacDonald of Irondequoit; a sister, Mary (David) MacConnell of FL.  A sister-in-law, Muriel MacDonald of Sodus and Florida, as well as several nieces and nephews also survive.
Jean is preceded in death by 2 grandchildren, Christopher and Victoria Claus as well as a brother, Richard MacDonald.  
There will be no prior visitation.  Jean's Memorial Service will be held Sunday (May 5, 2013) at 2:00 p.m. (Please note change in service date). at the First Presbyterian Church of Bergen, 38 South Lake Street, Bergen.  In lieu of flowers, memorials may be made to the First Presbyterian Church of Bergen, P.O. Box 206, Bergen, NY 14416.  Burial will be in Stone Church Cemetery, Bergen.  Arrangements were entrusted to the H.E. Turner & Co. Funeral Home, 51 South Lake Street, Bergen.  Please leave a condolence, share a story or light a candle at www.bataviafuneralhomes.com.