April 26, 2013 - 11:10am
Lillian M. Cina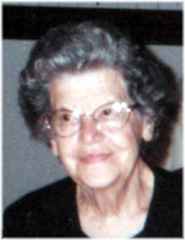 Lillian M. Cina, 89 of Batavia  died Tuesday April 23, 2013 at the Genesee County Nursing Home. She was born January 16, 1924 in Batavia to the late Joseph (Mary Marone) Cina. Lillian was a lifelong resident of the City of Batavia and attended Batavia High School and Rochester Business Institute, Batavia Branch. She was employed for nearly 40 years as an Administrative Assistant at Genesee County Health Department prior to her retirement. At the time of her retirement she had the highest seniority of all County employees. Lillian was a lifelong member of Ascension Parish (St. Anthony's Roman Catholic Church), a member of its Altar and Rosary Society and President of that Society for many years. She was active in all facets of her Church community through the Altar and Rosary Society, as a Bingo volunteer and during the Church lawn fetes. Lillian's bookkeeping abilities were of great assistance to the Parish on a regular basis with regard to all Bingo accounts and especially during the lawn fete. In 2003 Lillian was honored by Diocese of Buffalo with the prestigious St. Joseph the Worker award which is given to a lay person who exemplifies the spirit of service to her Church and her community. Lillian loved her extended family and her interests included spending much time with her Marone and Cina family members.    
Lillian was predeceased by her maternal aunt Virginia Sanfratello; maternal uncles Frank "Wiley" Marone, Louis Marone and Angelo (Sheiko) Marone. She was also predeceased by her paternal uncles Samuel Cina, Charles Cina, and paternal aunts Rose Quagliana, Mary Ficarella and Mildred DelPlato.    
She is survived by her aunts and uncles Ann Marone, Joseph Marone, Patrick Marone, Gertrude Woodring and numerous cousins in the Marone and Cina family.  
There will be no prior calling hours. A 10:00 AM Mass of Christian Burial will take place on Friday May 3, 2013 at Ascension Parish 19 Sumner St. Batavia, NY 14020. Interment will take place in St. Joseph's Cemetery, Batavia.
In lieu of flowers memorials may be made to Notre Dame High School 73 Union Ave. Batavia, NY 14020 or to Ascension Parish 19 Sumner St. Batavia, NY 14020. For more information or to sign the online guest registry please visit www.gilmartinfuneralhome.com or call 343-8260. Arrangements completed by Gilmartin Funeral Home & Cremation Company, Inc. 329-333 West Main Street Batavia, New York 14020.