May 4, 2013 - 4:02pm
Thomas S. Bush, Sr.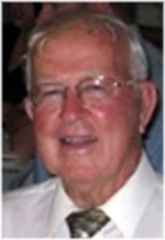 Thomas S. Bush, Sr., age 85, of Silver Springs passed peacefully into the arms of the Lord on April 29, 2013, surrounded by the unwavering love of his family.
Tom was a self-employed farmer for many years and later worked for the Wyoming County Highway Department where he retired in 1989. He was a member of St. Mary's Church (St. Isidore's Catholic Parish) in Silver Springs. Tom enjoyed many years on the grandfather's bowling and golf leagues. He was an active volunteer for over 30 years at the St. Mary's Friday night bingo. Tom enjoyed Sunday gatherings with his family, his daily walks, and lived each day to the fullest.
Tom considered his life to be blessed in countless ways including his loving wife, Lois Woodard Bush, of 60 years; his children, Joe Bush of Silver Springs; Sue (Greg) Walton, of Bliss; Debbie (Brian) Gross of Castile; Marty (Doug Hammond) Bush of Rochester; Linda J. Bush of Silver Springs, Lori Bush-Siracusa of Geneseo, Tim (Linda) Bush of Silver Springs; Tom (Becky) Bush of Perry; 16 grandchildren; five great-grandchildren, three sisters, Glenna Popp of Leicester, Julie (James) Gillen of Warsaw, and Adele Stewart of Citrus Heights, CA; and two brothers, Kenneth (Ann) Bush of Chili Center, and James Bush of Stuart, FL, along with many nieces and nephews.
Tom will forever be remembered by his family and friends for his gentle spirit, infectious smile, unconditional love, and uncanny sense of humor.
He is preceded in death by his parents, Arthur (Anna Reilly) Bush; two sisters, Mary Bush and Muriel Downey; and three brothers, Arthur, Robert and Adelbert.

Family and friends are invited to call on Friday, May 3rd, from 2-4 and 7-9 pm at the Eaton Watson Funeral Home, LLC. 98 North Main St, in Perry. Prayers at 10 am on Saturday, May 4th, at the funeral home will precede a Mass of Christian Burial at 11 am at St. Mary's Church in Silver Springs. Burial will be in St. Mary's Cemetery in Silver Springs.
Memorial contributions may be made to St. Mary's Church in Silver Springs, 23 Church St, Silver Springs, NY 14550 or Highland Hospital Department of Cardiology, 1000 South Ave, Box 15, Rochester, NY 14620. To sign the online guest registry please visit www.eatonwatsonfuneralhome.com or for more information please call 237-2626. Arrangements completed by the Eaton-Watson Funeral Home, LLC. 98 North Main Street Perry, New York 14530.