May 19, 2013 - 3:08pm
LAWRENCE T. "LARRY" LEE
posted by
Michael Tomaszewski
.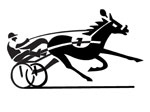 Age 61, of Batavia, NY died peacefully Saturday morning May 18, 2013 at Crossroads House. He was born January 6, 1952 in Batavia, NY to Audrey M. (Warner) Lee of Batavia and the late Thomas K. Lee, also preceded in death by a son, Richard L. Lee.
Larry was well known in the Harness Horse Racing community having owned, drove and trained horses for over 20 years. He has also worked for 23 years with Community Action of Orleans & Genesee, helping people, Larry also enjoyed cooking and gardening, especially tending to his bushes. 
Survivors include his beloved wife, Louise D. (Morgan) Lee of Batavia; son, Steven (Alissa) Lee of New Jersey and their son Lincoln A. Lee; daughter Michelle Lee of New Jersey; step-daughter, Roxanne (Philip) Munger of Oakfield and their children, Morgan and Nicholas; step-daughter, MaryEllen Mercer of Virginia; sister, Diane (late Ronald) Stepp; brothers, Greg (Elsie) Lee, Thomas K. (Cheryl) Lee all of Batavia along with many nieces, nephews. 
Family and friends are invited Tuesday May 21, 2013 from 4 – 8 PM to Celebrate the Life of Larry at the Michael S. Tomaszewski Funeral & Cremation Chapel, LLC 4120 West Main Street Road Batavia, New York 14020. In lieu of flowers memorials in his memory are suggested to Crossroads House 11 Liberty Street or Hospice Family Care 550 East Main Street Batavia, New York 14020.
Please share your memories with Larry's family at www.tomaszewskifh.com and for more information please call Michael at (585)343-7500.
THE FAMILY OF LAWRENCE T. "LARRY" LEE IS BEING CARED FOR BY THE MICHAEL S. TOMASZEWSKI FUNERAL & CREMATION CHAPEL, LLC 4120 WEST MAIN STREET ROAD BATAVIA, NEW YORK.