May 28, 2013 - 3:51pm
Sandra Lynn Shadduck Jackson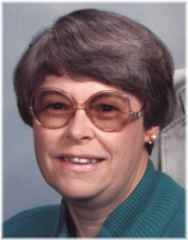 Sandra Lynn Shadduck Jackson, 76 of Batavia, died May 27, 2013 at the Leo Center for Caring in Rochester. She was born May 6, 1937 in Tunkhannock, PA to the late Bruce (Jean Cleveland) Shadduck.
Sandra started working as a nurse's assistant when she was a junior at Tunkhannock High School, Tunkhannock, Pa. She loved the work so much that right after graduating in 1955 she went to nursing school at Robert Packer Hospital in Sayre, Pa.
During nursing school, for a time she kept in touch with her boyfriend from high school -- he had played football while she sang in the school musicals – but after a spat she gave back his fraternity pin. When school ended, she took her registered nurse's degree to Columbia Presbyterian Hospital in New York City. Her old boyfriend, Roger Jackson, was in New York, too, selling luggage at Saks Fifth Avenue after quitting college. He proposed. She said "Yes," with one condition: he had to return to college. They eloped during his spring break, spent their wedding night in Allentown, Pa. and drove to Tunkhannock to tell their parents, Bruce and Jean Shadduck, and Ethel and Clark Jackson, who was in a hospital and died two days later. While Roger finished college, Sandy worked at Tompkins County Hospital in Ithaca, N.Y., where their first son, W. Kent Jackson, was born in 1960. After Roger graduated from Cornell University, the family moved to Batavia, N.Y. where Sandy nursed servicemen at the Veteran's Hospital, cared for children in the pediatrics ward of the former Genesee Memorial Hospital and then worked in the office of the obstetrician, Dr. Laurence G. Roth, who had delivered her second son, Bruce Wood Jackson, in 1963. Sandy sang in the choir of the First Presbyterian Church in Batavia, and she and Roger ran the refreshment stand for the Pop Warner Youth Football League in Bataiva. When Dr. Roth retired in 1998, so did she. Sandy said she never outgrew her love of nursing, though in 30 years she never earned more than $9 an hour. After retiring, she had one final patient. Her husband was stricken with Lou Gehrig's disease. She nursed him in their home by herself until he died in 1996 at 56. After his death, Sandy continued to live in Batavia, but always visited her sons and their families, especially her five grandchildren.  She is preceded in death by her beloved husband W. Roger Jackson in 1996.
She was the loving mother of Kent and his wife, Karen, live in Conyngham, Pa. Their daughter, Lauren, lives in Philadelphia, and their son, Colin, in Chicago.
Bruce and his wife, Amy, live in New Rochelle, N.Y. with their daughter, Kiera, and sons, Calvin and Oscar.
There will be no prior calling hours.  A 1:00 PM Memorial Service will be held on Wednesday May 29, 2013 at the First Presbyterian Church, 300 East Main Street, Batavia, NY 14020. Interment in Tunkhannock, PA.   
In lieu of flowers memorials may be made to the First Presbyterian Church, 300 East Main Street, Batavia, NY 14020. To sign the online guest registry please visit www.gilmartinfuneralhome.com or for more information call (585) 343-8260. Arrangements completed by Gilmartin Funeral Home & Cremation Company, Inc. 329-333 West Main Street Batavia, New York 14020.