June 4, 2013 - 12:28pm
Charles G. Taylor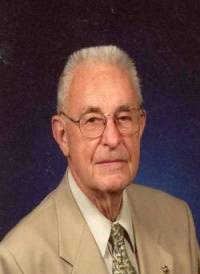 Batavia - Charles G. Taylor, 88, of Batavia, Owner of the former Taylor Typewriter & Business Equipment in Batavia, died Tuesday, June 4, 2013 at Genesee County Nursing Home.
Mr. Taylor was born December 5, 1924 in Buffalo, a son of the late Charles H. and Dorothea K. (Beck) Taylor.
He graduated from Amherst Central School in 1943 and served during WWII with the US Army and received an Associates Degree from General Motors Institute of Technology.  He was a member of the Batavia First Baptist Church since 1959 where he served as Chairman of the Board of Trustees, Building Committee, Fireside Class, and American Baptist Churches of New York State Outdoor Ministries.  He was a member, since 1952 and past president, of Kiwanis Club of Batavia, YMCA Board of Directors, Camp Committee and served on the City Pool Project.  He was a former Assistant Scout Master with Troop 7.
His wife, Jean Ann (Bush) Taylor, died March 14, 2001.
Survivors include 3 sons, David C. Taylor and Jack E. (Deborah) Taylor, both of Batavia and James L. (Tracey) Taylor of Pittsford; 3 grandchildren, Stephanie Lee (Adam Miller) Taylor of East Bethany, Nathaniel Taylor and Sean Taylor, both of Pittsford; a sister-in-law, Bonnie L. Bush of Greece and JoAnn Bush of Texas; several nieces and nephews and cousins. 
He was the grandfather of the late Christina Marie Taylor and brother of the late Jack E. Taylor and Dorothy C. Taylor.  
Friends may call on Thursday from 3 to 7 p.m. at H.E. Turner & Co. Funeral Home, 403 E. Main St., Batavia where a prayer service will be 10 a.m. Friday.  Burial will follow at White Chapel Memorial Park in Amherst.  Memorials may be made to First Baptist Church of Batavia, 306 East Main Street, Batavia, NY 14020, Kiwanis Club of Batavia, P.O. Box 562, Batavia, NY 14021 or to AutismUP, 180 Linden Oaks Drive, Rochester, NY 14625 (autismup.org).  Please leave a condolence, share a story or light a candle at www.bataviafuneralhomes.com.