June 11, 2013 - 4:19pm
Lorraine Gorecki
posted by
Ronald Konieczny
.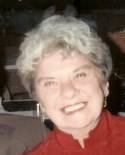 Lorraine Gorecki, 83, of Batavia, went lovingly to the Lord on June 11, 2013 at United Memorial Medical Center Comfort Care.
She was born in Batavia on August 24, 1929, a daughter of the late Andrew J. and Mary L. Kornowski Gorecki.
Prior to her retirement she was an accountant at the former G.T.E. Sylvania Entertainment Products in Batavia.  She was a lifelong member of Ascension Parish, an active member of the Polish Falconettes, member of the Red Hatters and the Altar and Rosary Society of Ascension Parish.  She enjoyed good times with family and friends and was an avid reader and golfer.
Surviving are three sisters: Beverly (Robert) Terol of Batavia, Andrea Stromski of Batavia and Mary Ellen (Michael) Minuto of Greece, NY. Nieces and nephews: Jacqueline Terol, Jody Carey, Lynn Stromski, Jim Stromski, Richard Stromski and Dean Minuto. She was the life long love of the late Sigmund (Sax) Rock.
Friends of the family are cordially invited to share their thoughts, condolences and fond memories with the family at the J. LEONARD MCANDREW FUNERAL HOME, LLC., 2 BOGUE AVE., BATAVIA on Friday from 4-7pm.  A Mass of Christian Burial will be celebrated on Saturday at 11am at Ascension Parish (Sacred Heart Church.  Burial will follow in St. Joseph Cemetery.
Those desiring may make memorial contributions to, Crossroads House, 11 Liberty St., Batavia, NY 14020.
Expressions of condolence may be made at: www.mcandrewfuneralhomes.net.
Arrangements were entrusted to the J. LEONARD MCANDREW FUNERAL HOME, LLC., 2 BOGUE AVE., BATAVIA.  RONALD P. KONIECZNY II, DIRECTOR & PROPRIETOR.