June 17, 2013 - 8:02pm
Kermit Arrington
posted by
LaVern Falcone
.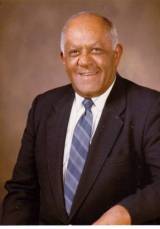 LeRoy ~    Town Justice Kermit Arrington, age 86, of Craigie Street, passed away Sunday evening (June 16, 2013) at Crossroads House in Batavia.
     Justice Arrington was a lifelong resident of LeRoy, born there on May 16, 1927 to the late Samuel M. and Daisy C. Arrington.  He graduated from LeRoy High School in 1945 following an illustrious career in all sports, acting as quarterback on their championship team in his final year.  Following high school, he served in the army in World War II and after discharge, spent the next 34 years working at the LeRoy Department of Public Works, and served as the superintendent for his final 20 years of his career.
     Upon his retirement, he worked as a special investigator for Jones Chemical for 10 years. Mr. Arrington spent his life dedicated to sports in LeRoy, umpiring and refereeing baseball and football, from the Little League and Tyro through high school and college level.  For many years, he was quarterback of the semi-pro All LeRoy football team.  He was named LeRoyan of the Year in 1989, an award and honor he was proud of.  He was elected LeRoy Town Justice in 1988 and served in that capacity until his death.
     He was a lifelong member of the Excelsior Hook and Ladder and volunteer fire department, where he served as foreman for a term.  His other associations include Rochester Football Officials Assoc., WNY District Umpires Assoc., WNY Superintendent Assoc., American Water Works Assoc., Genesee County Magistrates Assoc. and the American Judges Assoc.  An avid sports enthusiast, he attended most of LeRoy's football games, both home and away.  All of the restaurants and inns in LeRoy, Batavia and beyond were familiar with him and his well-known, distinctive license plate.  All and sundry knew when  "Kermit was in the area".
     Kermit was predeceased by his parents and four of his siblings; Samuel M. (Irene) Arrington, Ralph T. (Geneva) Arrington, Winifred A. (Charles) Majors and Camilla A. (Adolph) Boyer.  Surviving are his brothers; John C. (Thelma) Arrington of Webster, James L. Arrington of New York City; sister, Phyllis A. Jackson of LeRoy, dear friend, Christine Crocker and several nieces and nephews.
     Family and friends are invited to call on Thursday from 2 ~ 4 and 6 ~ 9 P.M. at the Falcone Family Funeral & Cremation Service Inc., 8700 Lake Rd. (Route 19), LeRoy, where Funeral Services will be held on Friday at 11 A.M.  Interment with military honors will follow in Machpelah Cemetery.  The courtesy of no flowers is requested with memorials suggested to either LeRoy Little League, LeRoy Historical Society or Crossroads House.
     Mr. Arrington and his family are being cared for by the Falcone Family Funeral & Cremation Service Inc.  For any additional information, please call Vern at 585-768-2400.