July 12, 2013 - 6:32pm
Salvatore V. "Sam" Cintorino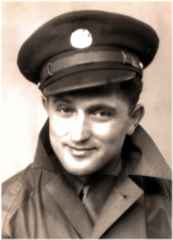 The much loved Salvatore V. "Sam" Cintorino, 96 of Batavia, passed away on July 12, 2013 at the New York State Veterans Home @ Batavia. He was born on November 8, 1916 in Brooklyn to the late Antonio (Antonia Riso) Cintorino of Palermo, Italy was one of seven brothers and one sister-all deceased except for Ralph of Batavia. During the great depression as a high school senior Salvatore joined the government sponsored CC Work Camp to cut down redwoods in Washington State. He fought as an amateur light-weight boxer Sal "Sammy Divine" won at least 5 Golden-Gloves recognized by the Rochester Boxing Hall of Fame. Sam is a WWII Army Veteran that fought in Europe and was a Purple Heart recipient along with many other honors. He was a longtime employee of Doehler Jarvis and Batavia Downs. He loved to entertain family and friends with his harmonica, hobbied as an artisan woodmaker and was a card playing member of the St. Nicholas Social Club. He loved golfing and Dunkin Donuts. "We love you much dad (Bapa)".
Salvatore is survived by his loving wife Angeline (Suozzi) Cintorino of Batavia; daughter Maria Kinsella of CT; two sons Salvatore Dominic (Margaret) of VT; David (Nancy) of VA; 5 grandchildren Julie and Kristine Kinsella; Jason (Jessica) Cintorino; Keaton and Lucas Cintorino; two great-grandchildren Maya and Dominic Cintorino; along with many nieces and nephews. 
Friends are invited to call on Monday July 15, 2013 from 4:00 to 7:00 PM at Gilmartin Funeral Home & Cremation Company, Inc. 329-333 West Main Street Batavia, New York 14020.  Prayers will be recited 9:30 AM on Tuesday July 16, 2013 at the Funeral Home followed by a 10:00 AM Mass of Christian Burial at Ascension Parish 15 Sumner St. Batavia, NY 14020. Interment will take place in St. Joseph's Cemetery, Batavia.
In lieu of flowers memorials may be made to the New York State Veterans Home Activities Fund 220 Richmond Ave. Batavia, New York 14020. To sign the online guest registry please visit www.gilmartinfuneralhome.com or for more information call (585) 343-8260. Arrangements completed by Gilmartin Funeral Home & Cremation Company, Inc. 329-333 West Main Street Batavia, New York 14020.