July 16, 2013 - 4:24pm
Ernest Murray Found Sr.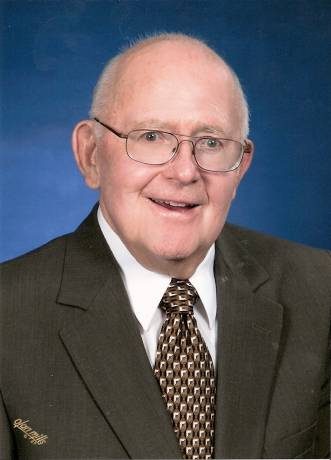 May 7, 1927 – July 16, 2013
Ernest "Ernie" Murray Found Sr. died Tuesday in Batavia, NY at the age of 86.  A more loyal and devoted husband is challenging to find. He shared 65 years of marriage with his beloved Eleanor.
Born in York, NY, Ernie graduated from Pavilion High School and enrolled in college at Muskingum College in New Concord, Ohio at age 16.
There he met Eleanor Ferguson as students and they were married in 1948 on the day he graduated.
During his time at Muskingum he served a year in the U.S. Navy in 1945-46 in the Pacific Theater.
Ernie devoted a 43-year career practicing law in Batavia, including serving as District Attorney for nine years. He was a partner at the firm Stakel, Suttel and Found.
He cherished his children's activities, serving as their coach, accompanist and confidant.
One of his gifts – which he shared often – was a wry, gentle smile. It warmed those around him and put anyone at ease.
He would listen before he spoke and was patient with anyone he came upon.
Ernie enriched his time in retirement with Eleanor by traveling across America in elder hostels and making regular trips to Myrtle Beach, SC and Chautauqua, NY. A special retreat was the family cottage in Notre Dame-du-Lac, Quebec.
He loved baseball and taught his grandson three simple keys to pitching:
1) step back,
2) balance, and
3) follow through.
It is long suspected that he was teaching those as keys to life as well.
His loyalty extended to his affection for the St. Louis Cardinals, an affection shared among his descendants.
He enjoyed softball, handball and racquetball as well as his time in the Lions Club and Jaycees. He served as deacon, elder and trustee at First Presbyterian Church in Batavia.
An enthusiastic piano player since childhood, he found joy in music.
Though Parkinson's late in his life robbed him of some of his dexterity, the condition seemed to vanish when he sat at the piano bench and his hands found the keys. His hands danced on the piano keys with the familiarity of a professional.
He joins in eternal peace those who preceded him in death: his parents, Charles and Grace; his siblings, Ellsworth, Marjorie and twins Clarence and Clayton; his son, Daniel; his daughter-in-law, Ellyn and his granddaughter, Caroline.
His legacy lives in those he is survived by: his wife, Eleanor; his daughters, Marilyn and Grace; his son, Ernie Jr.; his son-in-law, Mark; several nieces and nephews; his grandchildren Sarah and Jason, Emily and Joshua, Rachel and Christian, Anna, Gregory and Catharine; and his great grandchildren Eleanor and Andrew and his brother-in-law, Richard Ferguson.
Calling hours for Ernie will be held at the H.E. Turner Funeral Home in Batavia on Thursday from 4-7 p.m.
Memorial service will take place at the First Presbyterian Church in Batavia on Friday at 10:30 a.m. with reception to follow.
In lieu of flowers, donations can be made to First Presbyterian Church in Batavia.
Please leave a condolence, share a story or light a candle at www.bataviafuneralhomes.com.