July 22, 2013 - 8:40am
Deacon John J. Stone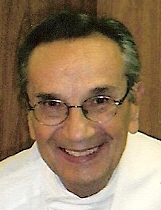 Deacon John J. Stone, 88, died peacefully after a long illness, Thursday, July 18th with his loving family by his side.  He was born in LeRoy on November 26, 1924 a son of the late Philip and Mary E. Fiorito Stone.
At 18, he joined the Navy and became Torpedo Bomber/Gunner, flying countless missions against the Japanese, taking off and landing on aircraft carriers such as the USS Enterprise, USS Lexington and USS Yorktown.  He earned the Air Medal, Distinguished Flying Cross, Conspicuous Service Medal and also the American Theatre and the Asiatic-Pacific Theatre Campaign medals.  After the war, John went to Canisius College where he graduated with a Bachelor's degree in Business Administration.
After college he worked for Doehler-Jarvis Manufacturing in Batavia for twenty six years as an administrator. He also belonged to the local musicians union and played bass fiddle with several area bands such as the Warren Fargo Band and the Mike Ellingham Band.  They entertained for hospitals, nursing homes, schools and played for dances and weddings.
He found a calling to serve the Lord and spent several years at Christ The King seminary where he was ordained a Deacon in 1980.  Through the years he touched the hearts of many with his homilies at weddings, baptisms and funerals.  His greatest passion was that of serving the Lord and that is what he did as a Deacon for thirty- four years.  He served as Chaplin for the Knights of Columbus, St.Joseph's Sodality and also the Manor House where he resided.  He was one of the oldest surviving members of the American Legion, (Botts/Fiorito Post in LeRoy) for many years.
Deacon John loved to play golf and was considered by many as the world's greatest Yankee fan.  When his wife Eleanor was alive, they enjoyed vacationing in Hawaii, the Adirondacks and Myrtle Beach, South Carolina where they spent numerous winters.
In addition to John's service to his country, as an administrator at Doehlers and his many years serving the Lord, he was also a loving husband, father, grandfather and great grandfather.  He always gave tirelessly of himself to better the lives of his family.  He was a wonderful man, full of love and adoration for his children, grandchildren and great -grandchildren.
We are very proud of his accomplishments and the fact that he played an instrumental role in improving the lives of so many people during his time as a Deacon.   He had a heart most uncommon in that he would go to great lengths to help others.  He was dearly loved by his family and all who knew him.  He will be deeply missed. 
Survivors include his daughter, Deborah (Edward) Manahan of Alexander; son, Douglas (Ernest Fogarty) Stone of Rochester; brother, Donald Stone of Florida; sisters-in-law, Louise Stone of Batavia and Kay Stone of LeRoy; grandchildren, Jeremy (Katie) Manahan of Williamsville and Renee (Rob) Radley of Batavia; great - grandchildren Lucas, Ella and Nolan Radley of Batavia and several nieces and nephews.
He was predeceased by his wife of fiftythree years, Eleanor Potwora Stone in 2005.  He was the brother of the late Alfred, Leo and Francis Stone, Helen Merola, Rose Shortino, Nina Guidici and Rita Madalena.
Family and friends may call at Resurrection Parish, St. Joseph Church, on Friday July 26, 2013, from 3 – 7 pm. followed by a Vigil Service by the Diaconate Community.   The Deacons will be fully vested.  The Knights of Columbus will hold a prayer service at 5 pm.  His Mass of Christian Burial will be at 10:00 am Saturday, July 27, 2013, preceded by the Sodality of St. Joseph's Rosary at 9:30 am.  Entombment with full Military Honors will be at St. Joseph Mausoleum.
In lieu of flowers memorials may be made to St. Joseph's School, 2 Summit St. Batavia, NY  14020. 
Please light a candle, share a story or leave a condolence at www.bataviafuneralhomes.com.