July 31, 2013 - 7:50pm
Mrs. Nunziata Eleanor Longobardi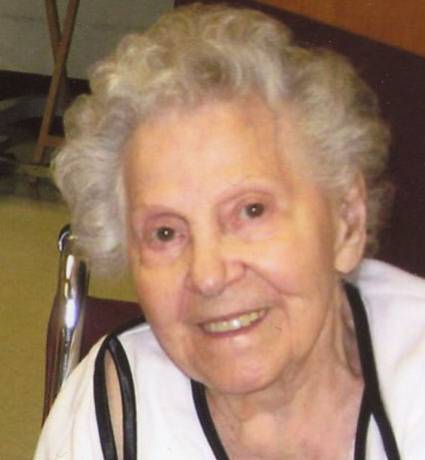 Batavia - Mrs. Nunziata Eleanor Longobardi, 96, died Wednesday, July 31, 2013 at the Genesee County Nursing Home, in Batavia.
Mrs. Longobardi was born March 23, 1917 in Glasport, PA, the daughter of the late Joseph and Carmela Mangone Tramontana.
She was a member of Resurrection Parish (St. Joseph's Church) and the Sodality of the Church, Rosary & Altar Society of Ascension Parish (St. Anthony's Church), St. Nicholas Society, Paolo Busti Cultural Foundation and the Legion of Mary.
Survivors include two sons; Ralph (Erika) Longobardi of Fairport and Carmen (Maureen) Longobardi of Ogden; two daughters, Rita Sidari of Batavia and Anne (Robert) Platten of Florida.  Also surviving are 11 grandchildren, several great and great great grandchildren and nieces and nephews.
Mrs. Longobardi was the mother of the late Gertrude Longobardi; mother-in-law of the late Frank Sidari and sister of the late Antonio Marie Pullinzi, Patrick Pullinzi, James Tramontana, Clara Scuderi, Mildred DiSanto and Christine Blasioli.
Friends may call on Monday from 4 to 8 PM at the H.E. Turner & Co. Funeral Home, 403 E. Main St., Batavia.  The Rosary will be recited by the Sodality of St. Joseph's Church Tuesday, 9:00 AM preceding her  Mass of Christian Burial which will follow at 9:30 AM at Resurrection Parish (St. Joseph's Church), 303 East Main Street, Batavia.  In lieu of flowers, memorials may be made to St. Joseph's School, 2 Summit St. or the Genesee County Nursing Home Activities Fund, 278 Bank St., both Batavia, NY  14020.  Entombment will be in St. Joseph's Mausoleum, Batavia.  Please leave a condolence, share a story or light a candle at www.bataviafuneralhomes.com.