August 7, 2013 - 3:25pm
Robert John Van Wagnen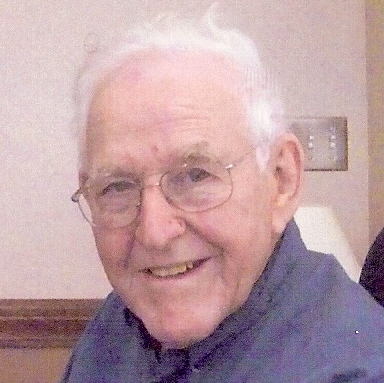 Robert John Van Wagnen, 87, of Batavia, loving husband, father, grandfather, uncle and cousin, passed away Tuesday (August 6, 2013) at New York State Veterans Home in Batavia.  Robert is now singing "How Great Thou Art" to his Savior God.
Mr. Van Wagnen was born February 8, 1926 in West Sparta, NY, a son of the late Howard and Helen (Webster) Van Wagnen.
He is a retired farmer and also worked for the NYS School for the Blind.
Robert loved tinkering, fixed many a washer and dryer.  He loved to play cards and won most of the time.  He also loved to square dance and listen to blue grass music and in his younger days was quite the trombone player.  After retirement, Robert took up shuffle board in Florida.
He is survived by his wife of 63 years Wilma (Armison) Van Wagnen of Batavia; a son, David (Esther) Van Wagnen of Ontario, NY; three daughters, Nancy (Raymond) Argulski of Cleveland, NY, Pamela (Raymond) White of Colorado Springs, CO and Patricia (Richard) Dutton of Batavia.  Nine grandchildren and ten great-grandchildren also survive.
He is a brother of the late Donald Van Wagnen, Richard Van Wagnen and John Van Wagnen.
There are no prior calling hours.  Friends are invited to attend a Memorial Service at 1:00 p.m. on Sunday at First Baptist Church of Batavia, 306 East Main Street, Batavia. 
In lieu of flowers, the family suggests memorials can be made to the New York State Veterans Home, Activities Department, 220 Richmond Ave., Batavia, NY 14020 or to the First Baptist Church of Batavia, 306 East Main St., Batavia, NY 14020. 
Please leave a condolence, share a story or light a candle at www.bataviafuneralhomes.com.
Arrangements were completed by the H.E. Turner & Co. Funeral Home of Batavia, (585) 343-8868.