October 7, 2013 - 9:06am
BERTHA "BEA" HEMENWAY
posted by
Michael Tomaszewski
.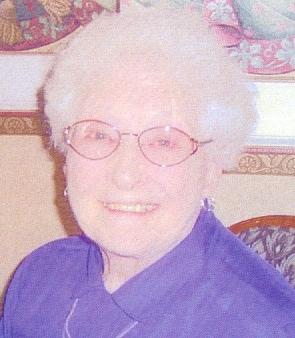 BERTHA "BEA" HEMENWAY – Age 96, of Batavia, passed away peacefully Wednesday September 11, 2013 at the LeRoy Village Green Nursing Home, where she had been a resident since 2006. Bea had lived in Batavia since 2001, and had been a resident of Frankfort, NY, from 1944 until her move west. She was born April 12, 1917, in Cazenovia, NY, the only child of the late Glenn E. and Laura M. (Rathbun) Bender, also preceded in death her husband, Charles S. Hemenway Jr.
   Bertha graduated from Chittenango High School in 1933 and from Oneonta Normal School in 1936. She held teaching positions on Portlandville and VanHornesville, NY, before marrying Charles S. Hemenway, Jr., her husband of 53 years. She resumed her career in 1953 as a second grade teacher for the Ilion Central School District (Central Valley Central School) and remained in that position until her retirement in 1972.
   Bertha was the ultimate teacher and hostess, always striving to improve whatever activity she was engaged in and always viewing her own work with a practical and critical eye. She was keenly aware of her position as a role model in the community and did her utmost to live up to that standard. She was a long-time member of the Frankfort Baptist Church and its Young Women's Guild, and attended both the First Baptist Church of Ilion, where she was known as the "Story Lady", and the Batavia First Baptist Church. Bea was a life member of the Order of the Eastern Star, Oneida Chapter, a Meals-On-Wheels volunteer, and a literacy Volunteer. She was an active organizer her whole life and could be counted on to initiate opportunities to socialize, especially if they could include her homemade cookies or a meal of some kind. Bertha was a cancer survivor who valued her friends and neighbors, remaining in close relationships with those she had known since before she had married. Her last several years were spent under the watchful and loving care of the excellent staff at the Leroy Village Green Nursing Home, whose dedication will be long remembered and appreciated. Bea never overlooked an opportunity to make a salient point or teach an impromptu lesson, and that impetus to instruct has been highlighted be her final wish that her body be donated to the University of Rochester as an Anatomical Gift.
   Surviving are two daughters, Lynne H. Whetzel of Ithaca, NY, and Marcia (John) Riley of Batavia, NY; four grandchildren, Susan L. Whetzel of San Francisco, CA, Karen E. Whetzel of Ithaca, NY, John C. (Jessica) Riley of Batavia, NY, and Kathleen R. (Fred) Pape of Lake George, NY; five great-grandchildren, Alexis, Rebecca, and Elizabeth Pape, and John D. and Campbell Riley; a dear sister-in-law, Helen W. Hemenway, and three nieces, Patricia Harrison, Carol (Bob) Williamson, and Betty (Tony) Saba, all of Pennsylvania.
   Family and friends are invited to a Celebration of Life for Bertha B. Hemenway on Sunday October 13, 2013, at 2 p.m. at the Michael S. Tomaszewski Funeral & Cremation Chapel, LLC 4120 West Main Street Road Batavia, New York 14020. Burial will be in Oak View Cemetery in Frankfort, New York and memorials may be made in Bertha's memory to The American Cancer Society, PO Box 22718, Oklahoma City, OK 73123-1718 (www.cancer.org) or Literacy Genesee-Orleans, 301 North Street, Batavia, New York 14020.
Please share your memories of Bea, with her family at www.tomaszewskifh.com and for more information please call Michael at (585)343-7500.
THE FAMILY OF BERTHA B. HEMENWAY IS BEING CARED FOR BY THE MICHAEL S. TOMASZEWSKI FUNERAL & CREMATION CHAPEL, LLC 4120 WEST MAIN STREET ROAD BATAVIA, NEW YORK.