October 10, 2013 - 3:17pm
George F. Gilmartin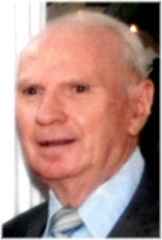 George F. Gilmartin, 84 of Batavia, passed away on October 9, 2013 at the United Memorial Medical Center. He was born August 23, 1929 in Eagle, NY to the late F. Leon (Katheryn George) Gilmartin. George was a graduate of Batavia High School, he attended the Citadel, and graduated from Syracuse University. He was a member of Resurrection Parish, a Navy Veteran of the Korean Conflict where he was a pilot trainer. He was the Director of the Budget for  SUNY at Alfred College of Technology, where he retired in 1987 as Administrator Emeritus from SUNY Alfred. He previously was a member of the startup staff for GTE Sylvania in Buffalo and then in Batavia, he worked for the former Springfield Casket Co and Boyertown Casket Company. He was an officer and member of the Board of Allegany County Community Service , officer and director of Allegany Council on Alcoholism, officer and director of Allegany Rehab Associates, officer and director Rural Health and Human Services Corp., Officer and director of Alfred Lions Club, and the Financial Chairman of St. Brendan & St. Jude R.C. Churches in Almond and Alfred.  George was an avid sports fan especially of the NY Yankees and the Syracuse Orangemen.  He is preceded in death by two brothers Darwin and Donald Gilmartin, sister Virginia (James) Metzger and nephew Peter Metzger.
George is survived by his sister in law Marie Gilmartin of Batavia, nieces and nephews Maria (Timothy) Woodward of Batavia, Patrick (Lucinda) Gilmartin of Buffalo, James (Tracy) Metzger of CA, Jennifer Brundage of NJ, John Gilmartin of FL, Susan Ohlemacher of Ohio, Richard (Nancy) Gilmartin of Batavia and Mary Beth (Peter) Mattei of CA. Several great  and great great nieces and nephews also survive along with his dear friends Mr. & Mrs. Chester Galle of Alfred Station.
Friends may call on Sunday October 13, 2013 from 2 to 5 PM at the Gilmartin Funeral Home & Cremation Company, Inc. 329-333 West Main Street Batavia, NY 14020. A Mass of Christian Burial will be held on Monday at 9:30 AM in Resurrection Parish, (St. Mary's site) 18 Ellicott Street, Batavia, NY. Entombment will take place in St. Joseph's Mausoleum, Batavia. 
In lieu of flowers memorials are suggested to Genesee Cancer Assistance, 16 Bank Street, Batavia, NY 14020 or Resurrection Parish, 303 East Main St., Batavia, NY 14020.  For more information please call 343-8260 or to sign the online guest registry go to www.gilmartinfuneralhome.com. Arrangements completed by Gilmartin Funeral Home & Cremation Company, Inc. 329-333 West Main Street Batavia, New York 14020.