October 21, 2013 - 2:42pm
Mary A. Jacobs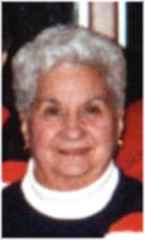 Mary A. Jacobs, 83 of Batavia, passed away peacefully surrounded by her family on Monday October 21, 2013 at the Hildebrandt Hospice Care Center in Rochester. She was born December 21, 1929 in Batavia to the late Salvatore (Phyllis LaLoggia) Maniace. Mary was a longtime member of St. Anthony's church and the Notre Dame Prayer Group. She worked for 27 years at GTE Sylvania and then at Kodak for 7 years. Mary was a very giving and charitable person that donated to many charities including the Boys Club of America, Catholic Charities, UNICEF, and the American Cancer Society. She loved cooking, cleaning, gardening, planting flowers, and holidays especially Christmas. Mary will be remembered as a peacemaker, very loving wife, mother, grandmother. Her love of family, strong faith in the Lord and generosity will be missed by those who knew her. She is preceded in death by brothers, John, Charles, Sam Jr., Dominic, Franklin "Ace" Maniace; sisters, Josephine DeFazio and Frances Mandelar.
She is survived by her beloved husband Neil Jacobs, son Neil (Luann) Jacobs, Jr., daughter Patricia Barnes, grandchildren Joshua, Taylor, and Jenna Jacobs all of Batavia; brothers, Michael (Beverly) of Batavia, Joseph (Joan) of East Bethany, Nathan of Batavia, Richard (Kathy) of FL and Robert of Batavia; sisters, Angeline Siracuse, Lucille (Clarence) Dora, Rose Marie Torres, Dorothy (Lester) Schaffer and Linda Maniace all of Batavia; sisters-in-law, Nicolina Maniace of Batavia; Linda (Dick) Wolfe of Batavia; brother-in-law Larry (Audrey) Jacobs of FL, along with many nieces, nephews and friends.
Friends are invited to call on Friday October 25, 2013 from 2-6 PM at the Gilmartin Funeral Home & Cremation Company, Inc. 329-333 West Main St. Batavia, New York 14020. A 10:00 AM Mass of Christian Burial will be held on Saturday October 26, 2013 at Resurrection Parish-St. Mary's Church 18 Ellicott St. Batavia, NY 14020. Interment will take place in St. Joseph's Cemetery, Batavia. 
In lieu of flowers memorials may be made to the Hildebrandt Hospice Care Center 2652 Ridgeway Ave. Rochester, NY 14626. To sign the online guest registry please visit www.gilmartinfuneralhome.com or for more information call (585) 343-8260. Arrangements completed by Gilmartin Funeral Home & Cremation Company, Inc. 329-333 West Main Street Batavia, New York 14020.