November 5, 2013 - 1:30pm
JOSEPH P. WELCH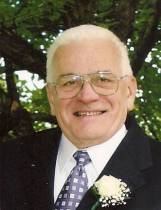 Batavia - Mr. Joseph P. Welch, 83, a retired employee of Eastman Kodak Co., died unexpectedly on Monday, November 4, 2013.
Mr. Welch was born March 17, 1930 in Bradford, Pennsylvania, the son of the late William L. and Natalie Trieskey Welch.
An active member of Resurrection Parish he was involved in many activities of the Church and St. Joseph's School.  He served as President of the St. Vincent de Paul Society of the Church and was a past President of the St. Joseph Home School Association.  He was an avid genealogist.
A veteran of the Korean he served in the US Army having been discharged as a 1st Lieutenant.
He is survived by his wife, Susanne Duhan Welch, whom he married June 9, 1956; his children, Joseph P. Welch, Jr of Batavia, Julie (Douglas) Burt of Cuba, NY, Mary Ellen (Robert) Zickl of Batavia, Kathleen (Daniel) Carr of Cheektowaga, Eileen (Brad) Zilliox of Webster, Sheila (Scott) Woodrich of Oakfield and Peggy (Robert) Swapceinski of Bergen and one sister, Mary Kammerer of Rochester.  He was the loving Grandfather to Susie, Sean, Sarah, Katie, Joanna, Hannah, Meghan, Matt, Haley, Brett, Joe, Danny, Zach, Jimmy, Emily, Adam, Josh and Caitlen.
Friends may call on Thursday from 5 to 8 p.m. at the Bohm-Calarco-Smith Funeral Home, 308 E. Main St. Batavia.  His Mass of Christian Burial will be held on Friday at 9:30 am at Resurrection Parish - St. Joseph Church, 303 East. Main Street. Members of St. Joseph Sodality will assemble at the Church at 9:00 am, preceding his funeral mass, to recite the Rosary.  In lieu of flowers memorials may be made to Notre Dame High School, 73 Union St. or St. Joseph's School, 2 Summit St.; both Batavia, NY  14020.  Burial with full Military Honors will be in St. Joseph's Cemetery.
To leave a condolence, share a story or light a candle, please visit www.bataviafuneralhomes.com.