November 5, 2013 - 5:10pm
Alicia M. Halpenny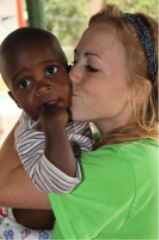 Alicia M. Halpenny, 23 of Portageville, passed away on November 5, 2013 at Highland Hospital after a courageous battle with Cystic Fibrosis. She was born November 3, 1990 in Warsaw to John F. (Lucinda M. Piper) Halpenny of Portageville. Alicia was a Registered Nurse, working at Noyes Memorial Hospital in Dansville and also at Rise and Shine Baby Home in Jinja, Uganda. She was an avid soccer player and track runner. Alicia loved nature, hiking, camping, the beach, frozen yogurt, venison jerky and most of all her nieces. She was a member of Old Paths Chapel in Perry, volunteering in the youth group and was very active in the church in general. Alicia was very active in her mission work and serving Jesus, she literally gave her life to serve the Lord. Everybody loved Alicia, she cared for everyone and will be remembered as a selfless treasure. Alicia is preceded in death by her grandmother Arlene Halpenny and her grandfather John Piper.
Along with her parents Alicia is survived by her sisters Tara (Shawn) Gardner of Warsaw; Sara (Reggie) Green of Sarasota, FL; Marcy (Justin) Duchnick of Dansville; grandfather Clifford Halpenny of Mt. Morris; grandmother Cleo Piper of Hunt; nieces Katherine and Makayla Gardner; Faith and Hannah Mosher; Jade Green.
There will be no prior calling hours. A 2:00 PM Funeral Services will be held on Sunday November 10, 2013 at the Old Paths Chapel 181 South Main St. Perry, NY 14530.
In lieu of flowers memorials are suggested to the Cystic Fibrosis Family Connection PO Box 93328 Rochester, NY 14692. For more information please call 237-2626 or to sign the online guest registry go to www.eatonwatsonfuneralhome.com. Arrangements completed by Eaton-Watson Funeral Home, LLC. 98 North Main Street Perry, New York 14530.