November 8, 2013 - 1:35pm
Frank Strollo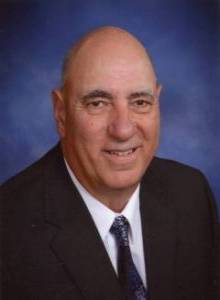 Punta Gorda, FL/Batavia – Frank Strollo, 71, of Punta Gorda, Fl and formerly of Batavia, passed away suddenly on Monday (October 28, 2013) at his home.
Mr. Strollo was born May 14, 1942, a son of the late Ralph and Virginia (Fiore) Strollo.
He was a member of Sacred Heart Parish in Punta Gorda and a former member of St. Anthony's Church in Batavia.  He was an avid golfer and was a member of the Batavia Golf Club as well as the St. Andrews South Golf Club in Punta Gorda.  He was a retired corrections officer and was a member of the Forgotten Victims of Attica.
Frank is the husband of Grace (Almeter) Strollo of Punta Gorda, Fl.  The two were married May 1, 1979 and enjoyed 34 wonderful years together.
Surviving along with his wife are his children, Frank J. Strollo of Rochester, Christine (Scott) Harris of Point Venture, Tx, Michelle (Michael) Perkins of Pavilion, Philip Boss of East Bethany, and Luanne Jacobs of Batavia; grandchildren, Frank, Anthony, Ethan, Mason, Zachary, Hannah, Kaleigh, Taylor, and Jenna; siblings, Anthony (Kathleen) Strollo of Albany, Florence (Donald) Skinner of Batavia, Mary Ann Strollo of Rochester, and Delores (Michael) Fee of Rochester.  Several nieces, nephews and cousins also survive.
There will be no prior calling hours.  Friends are invited to Frank's Memorial Mass of Christian Burial on Wednesday (November 13, 2013) at 9:30 a.m. at Resurrection Parish – St. Mary's Church, 18 Ellicott Street, Batavia.  In lieu of flowers, memorials may be made to Crossroads House, 11 Liberty Street, Batavia, NY 14020.  Private entombment will be held at St. Joseph's Mausoleum in Batavia at the convenience of the family. 
To light a candle, share a story, or leave a condolence, please visit www.bataviafuneralhomes.com.
Arrangements were entrusted to the H.E. Turner & Co. Funeral Home, Batavia, (585) 343-8868.