November 17, 2013 - 2:31pm
Shirley E. Brumber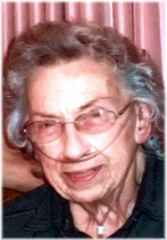 Shirley E. Brumber, 86 of Elba passed away Saturday November 16, 2013 at the United Memorial Medical Center. She was born September 30, 1927 in Batavia to the late Chester (Ernestine Schramm) Wiedrich. Mrs. Brumber worked for Black & Decker in Brockport. She is preceded in death by her first husband Lawrence Cooley; second husband Irving Brumber; son Douglas Cooley; stepson Dale Brumber; stepdaughter Nancy Rocklein; brothers Gerald and Donald Wiedrich.
She is survived by her son Larry Cooley; daughters Debbie (Mike) Kelly; Kimberly (Sharon) Brumber; brother Robert (Mary) Wiedrich; sisters Elsie Annunziata; Ruth (Joseph) DeFazio; 6 grandchildren; many great and great-great-grandchildren along with many nieces and nephews.
Friends are invited to call on Tuesday November 19, 2013 from 4-8 PM at the Gilmartin Funeral Home & Cremation Company, Inc. 329-333 West Main St. Batavia, New York 14020. An 11:00 AM Funeral Service will be held on Wednesday November 20, 2013 at the Funeral Home. She will be laid to rest in Grand View Cemetery, Batavia.
The family suggests memorials to the Batavia Animal Shelter 3841 West Main St. Rd. Batavia, NY 14020. To sign the online guest registry please visit www.gilmartinfuneralhome.com or for more information call (585) 343-8260. Arrangements completed by Gilmartin Funeral Home & Cremation Company, Inc. 329-333 West Main Street Batavia, New York 14020.