November 26, 2013 - 7:44pm
Benedict A. "Benny" Joy
posted by
LaVern Falcone
.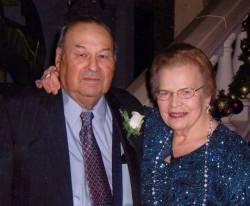 Pavilion ~ Benedict A. "Benny" Joy, age 90,  of Pavilion Center Road, died Tuesday morning (Nov. 26, 2013) at United Memorial Medical Center in Batavia.
     He was born October 10, 1923 in LeRoy, a son of the late John and Frances Marino Joy.
     Mr. Joy will be remembered as a beloved husband of 62 years to his late wife, Bernadette and a loving father, grandfather and great-grandfather to his family.  He was a WWII veteran of the U.S. Navy and enjoyed gardening.
     He is survived by his sons, John (Deborah) Joy of MA, James (Karla) Joy of Wyoming, NY, Charles Joy of Linwood, Francis (Shari) Joy of Pavilion, and Edward Joy of CA; his daughters, Kathleen (Hillsman) Williams of KY, Elaine Kearney of Buffalo and Monica (Robert) Diasio of KY; sisters, Rita DiFrancisco of LeRoy and Josephine Kozlowski of Batavia, 12 grandchildren, 10 great-grandchildren and several nieces and nephews.  He was predeceased by his wife, M. Bernadette Joy in 2012 and his siblings, Charles Joy, Joseph Joy, Mary Joy and Savina Joy.
     Family and friends are invited to his Memorial Mass on Saturday at 11:00 AM at Our Lady of Mercy Parish (St. Joseph's Oratory), 27 Lake St., LeRoy.  The courtesy of no flowers is requested with memorial contributions suggested to the New York State Veterans Home at Batavia, Attn: Activities Fund, 220 Richmond Avenue, Batavia, N.Y. 14020
     Your memories and condolences may be shared with Mr. Joy's family at www.falconefuneralhome.com
     Mr. Joy and his family are being cared for by the Falcone Family Funeral & Cremation Service Inc.