January 17, 2014 - 8:59am
Rosemary W. Kingsley (Wolf)
posted by
LaVern Falcone
.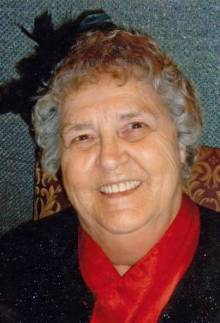 Brockport ~ Rosemary W. Kingsley, age 76, of The Landing, formerly of Chili, passed away Wednesday afternoon (Jan. 15, 2014) at Unity Hospital with her loving family at her side.
     Mrs. Kingsley was born Sept. 25, 1937 in Rochester, N.Y., a daughter of the late Raymond and Elsie (Webster) Wolf.
     She was a very active and dedicated member of many organizations which included the Grace Baptist Church of Brockport, Germana Rebekah Lodge #83, Pax Theta Rho #24, Ladies Patriarch Militant, and the Chili Fire Dept. Ladies Auxiliary.  She was also a retiree of Eastman Kodak.
     She is survived by her daughters, Dawn (Dale) Ehrhart of LeRoy and Laurali (Thomas) Waldmiller of Orlando, FL; grandchildren, Derek Tesch, Caitlin & Amie Waldmiller and Karl Ehrhart; her siblings, Shirley Gatti of Rochester, Gloria O'Mara of Albion, William (Susie) Wolf of Montgomery, AL, Cindy (Frank) Cape of North Port, FL, Carol (Tom) Durfee of Myakka City, FL, and Raymond C. Wolf of Clermont, FL, along with many nieces, nephews, great-nieces and great-nephews.  In addition to her parents, she was predeceased by her husband, Robert L. Kingsley and a sister, Ellen Wolf.
     Friends may call on the family on Saturday, January 25, 2014 from 2 ~ 4 P.M. at the Grace Baptist Church of Brockport, 5220 Lake Road South (Rt. 19), Brockport, where services will be held at 4:00 P.M.  Interment will be in Machpelah Cemetery, LeRoy at the convenience of the family.  In lieu of flowers, memorials may be made to Grace Baptist Church.
     Mrs. Kingsley and her family are being cared for by the Falcone Family Funeral & Cremation Service Inc.  Your memories and condolences may be offered to Mrs. Kingsley's family at www.falconefuneralhome.com