January 30, 2014 - 2:48pm
Charles F. "Butch" Johnson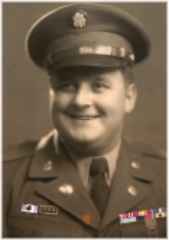 Charles F. "Butch" Johnson, 82 of Attica, passed peacefully with family on January 29, 2014 at Strong Memorial Hospital in Rochester. He was born at home on February 26, 1931 in Attica to the late Emil (Florence Wunsch) Johnson.
Butch was a Veteran of WWII, the Japanese Occupation, the Korean War and the Cold War. He quit school and joined the Army in 1948 at the age of 17, did his basic training at Fort Dix, NJ. He then graduated from English Drafting School at Fort Belvoir, VA and was shipped to Tokyo, Japan. Butch was assigned to GHQ, G-2 Intelligence in the Dai-Ichi Seimei Building in General Douglas MacArthur's General Headquarters with a Top Secret Clearance. He served there during the Japanese Occupation and Korean War for over 3 years.
Mr. Johnson was the recipient of the American Presidential Citation, Good Conduct Medal, Korean Service Medal, WWII Japanese Occupational Medal, United Nations Medal-Korea, South Korean Presidential Medal, Cold War Medal, "Roc Korean" Service Medal, American Defense Medal, the 50 year Korean Service Medal. He also received "Letters of Commendations" from General MacArthur, General Charles Willoughby G-2 and General Ennis Whitehead G-2. He was presented with a "Letter of Appreciation" from South Korean Government for the work in G-2 on maps and for the "Inchon Invasion" in Korea, September of 1950.
Mr. Johnson retired after over 25 years as a Prison Guard at Attica in 1981. He was a life member of Alexander VFW Post 6239, over 50 year member of Harder O'Donnell Post in Attica State Retirees Association, charter member of WWII War Memorial and AARP.
Butch loved to be outside in his flower gardens and watching birds. He was very proud of his service time and his Swedish Heritage. Butch loved to tell people how "he was over General MacArthur in Tokyo because he was on the 7th floor of the Dai-Ichi Building and his boss was on the 6th floor. He repaired and made up bicycles with a friend during his WWII days and found himself still doing this 46 years later. He also made and sold Butch's Mustard for over 50 years. After he went around the world he literally came home and married the girl next door. He enjoyed his wife, children and grandchildren more than anything.
He was married for 46 years to the late Mary E. (McGinnis) Johnson who died in May of 2001. He is also preceded in death by a son Donald E. Johnson who died in June of 1959; brothers Walter, David, Norman, Emil Johnson Jr., sisters Olga Cummings, Thelma Straszewski and Joan Clark.
Survived by his children Patti (Mark) Lippold of Portland, ME; Bob Johnson of Attica; David (Sandra) Johnson of Sugarland, TX; Chuck Johnson of Attica; Cheryl (Bob) Seipel of Attica; 10 grandchildren, 2 great-grandsons along with several nieces and nephews.
Friends are invited to call on Monday February 3, 2014 from 3 to 7 PM at Marley Funeral Home, LLC. 135 Main St. Attica, NY 14011. Funeral Services will be held 11:00 AM on Tuesday February 4, 2014 at St. Paul's United Church of Christ 11 Washington Street Attica, New York 14011. He will be laid to rest in St. Vincent's Cemetery, Attica.
In lieu of flowers memorials may be made to the Attica Rescue Squad 11 Water St. Attica, NY 14011. For more information please call (585) 591-1212 or to leave a message of condolence please visit www.marleyfuneralhome.com. Arrangements completed by Marley Funeral Home, LLC. 135 Main Street Attica, New York 14011.