February 11, 2014 - 12:12pm
Thomas H. Dixon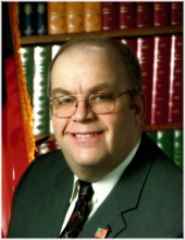 Thomas H. Dixon, age 60, died on Sunday February 9, 2014 at the Wyoming County Community Hospital in Warsaw. He was born in Warsaw, New York on October 16, 1953 a son of the late Thomas M. and Elma Lois Souci Dixon. Tom was a graduate of Letchworth Central School class of 1971 and a graduate of Monroe County Community College in Rochester. He worked several years for Morton Salt Co. in Silver Springs before becoming a correctional officer, he retired in 2010 from Attica State Correctional Facility in Attica. In 2005 he received an honor from the New York State Bar Association for outstanding contributions in the field of corrections.
He was also a part time school bus driver and was currently working for Wyoming Transit Service in Warsaw. He was a former Trustee and Mayor for the Village of Silver Springs, and was currently holding the position of Supervisor for the Town of Gainesville. He was a former Town of Gainesville tax assessor and American Red cross First Aid multi media and CPR instructor.
A 42 year member of the Silver Springs Fire Department and Rescue Squad, where he held several positions including Vice President and President of the Fire Department, Wyoming County Republicans Committee and a Board member of the Wyoming County Community Action. He enjoyed spending time with family and friends, watching his children and grandchildren during their sporting events, and will be remembered by many who knew him as Santa though out Wyoming County.
He is survived by his wife: Lynelle Kelly Dixon whom he married on May 31, 1975, a daughter Suzette (Jason Bush) Dixon of Hermitage, 2 sons: Matthew (Heather Van Epps) Dixon of Silver Springs, and Andee (Mary) Dixon of Mahwah, NJ, a daughter-in-law: Angela Akin of Perry, 3 grandchildren: Raeha Dixon, Dylan O'Brien, and Caeden Dixon, nieces and nephews: Danielle, Nicole, Bradley, Kellie and Aaron and close friends the Sands and Stewart families.
Family and friends may call from 4-8pm on Wednesday and Thursday at the Eaton-Watson Funeral Home, LLC. 98 North Main St. Perry, NY 14530. A firemens service will be held on Thursday at 7:30pm. Funeral Services will be on Friday Feb 14th, 11:00 A.M. at the Funeral Home. He will be laid to rest in Elmwood Cemetery, Silver Springs.
Memorials May be made to the Silver Springs Fire Department and Rescue Squad P.O. Box 251 Silver Springs, New York 14550. For more information please call (585) 237-2626 or to leave a message of condolence please visit www.eatonwatsonfuneralhome.com. Arrangements completed by Eaton-Watson Funeral Home, LLC. 98 North Main Street Perry, New York 14530.