March 18, 2014 - 3:32pm
Betty Ruth Doehring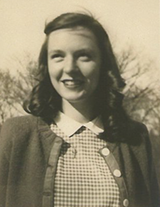 Betty Ruth Doehring, 89, died peacefully on March 12, 2014, at Crossroads House in Batavia, with her family by her side.
She was born Aug. 23, 1924, in Buffalo, the only child of Elmer and Ruth Marquardt. She is survived by her husband of 65 years, Walter; with eight children, James (Richard Episcopo), Thomas (Steven Chalfant), Jack (Gareth), Daniel (Anna), Andrew (Sandra), Sarah, Rachel (David) Fasano, William (Phoebe); and five grandchildren, William, Matthew, Zalya, Stella and Erin. 
Her greatest joy in life was her children. She was also a proud graduate of Wells College at the age of 70, a hugely important milestone in her life. She traveled the world and spent many years traveling the country to visit her children in California, Florida, Idaho, Maine, Montana, and New York. Betty and her husband spent 13 years in Sedona, Ariz., before returning to New York in 2010.
Her passion was swimming; it brought solace to her life. She loved to go to the movies (foreign films were her favorite) and in her younger days, she enjoyed dancing at the Crystal Beach Ballroom in Canada. She loved to go out for breakfast, "two poached eggs, dry rye toast and home fries extra crisp with peppers and onion, please", coffee with loads of creamers and water with no ice!
Those who knew her best knew that quality of life meant everything to her. She will be sadly missed by those who had the privilege to know her.
As per her wishes, there will be no calling hours and a private family gathering will be held at a later date. Memorials in Betty Ruth's memory would be gratefully  appreciated to Crossroads House, where she was cared for with utmost dignity and respect during her final weeks.
Arrangements for Betty Ruth Doehring have been taken care of by the Dengler Roberts Perna Funeral Home, 8630 Transit Rd., East Amherst, NY 14051, a member of the Neptune Society/Dignity Memorial Network.