Image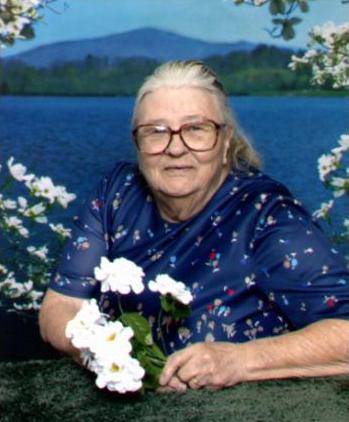 Byron/Oakfield - Mrs. Peggy D. Wilson, 94, of Oakfield, passed away on Saturday, April 5, 2014 at Highland Hospital after a short illness.
Mrs. Wilson was born August 7, 1919 in Reading, England, a daughter of the late William and Lilly Davis.  After immigrating to the United States, Lilly married George Patten.  George married Sally Perkins and Peggy cared lovingly for them in their older years.
A 66-year member of Byron Presbyterian Church, she taught Sunday school, weekday religion and vacation bible school.  She was a life member of the South Byron Fireman's Auxiliary and a former Girl Scout troop leader in Byron.  She enjoyed quilting, crochet, knitting, cooking and gardening. 
Peggy and her mother arrived in the United States through Ellis Island on April 8, 1926. She and her mother became naturalized citizens in 1947.
Peggy and her husband raised two grandchildren, Tammy and Eric Taylor, whom provided her with lots of joy and love through the years.
Peggy enjoyed her last 10 years at School House Manor. She made many friendships and enjoyed being able to be independent.
Peggy was called "Grandma Peggy" by her daughter-in-laws family with great love and joy.
Peggy in recent years enjoyed to go out to eat with her family at Miss Batavia Diner. She was always greeted with a smile and a warm welcome. During her illness Miss Batavia assisted the family with Peggy's favorite drink to go, their Raspberry Ice Tea.
Her husband, Edgar B. Wilson, passed away on October 26, 2002.
She is survived by her children, Robert (Beth) Wilson of Byron and Dorothy Clement of  Kansas City, MO; several grandchildren including Tammy (Chip) Longabaugh of Slaterville, Kimberly (Devin) Borget of Lewiston, Karen (Rich) Volk of Oakfield; several great-grandchildren including Ashley Taylor of Rochester, Lisa Marie Taylor of Batavia, Sean McConnell of Slaterville, William Borget of Lewiston, Milo Volk of Oakfield; several great-great-grandchildren including Eli Rose Taylor of Rochester; and many  nieces, nephews, great nieces, great-nephews and cousins. 
She was the grandmother of the late Eric D. Taylor, who passed away on January 5, 2001.
She was the great-grandmother to the late Stephanie Lynn Tooley, who passed away on September 25, 2003.
Friends may call on Tuesday, April 8 from 4 to 8p.m. at the Burdett & Sanford Funeral Home, 11 Maple Avenue, Oakfield, where services will be held on  Wednesday, April 9th  at 10a.m. Burial will be in North Byron Cemetery, Byron. Memorials may be made to South Byron Fire Company, PO Box 30, South Byron, New York 14557 or Byron First Presbyterian Church, PO Box 206, Byron, New York 14422. To leave a condolence, share a story or light a candle, please visit www.burdettandsanford.com.